Welcome to our CCA Lyra review. If you haven't heard of CCA (Clear Concept Audio) earlier, it is a popular audio brand in the budget IEM (In Ear Monitors) segment. It is KZ's (Knowledge Zenith) sister brand that also makes some of the most popular budget IEMs. The CCA Lyra are priced at ₹1,799, and the earphones can be bought from Headphone Zone. These IEMs compete against dozens of other IEMs in the price segment, but the most important competitors are the Moondrop Chu (Review), BLON BL-03, KZ ZSN Pro X, and the CCA CRA.
Headphone Zone sent us the CCA Lyra for review last month, and I've been using the earphones every day since then. And here's my CCA Lyra review after using them for close to a month. I also compared them with the Moondrop Chu, BLON BL-03, Final Audio E1000, and Soundmagic E11C.
In Box Contents
CCA Lyra
Three pairs of ear tips: Small, Medium, and Large
Removable cable with 3.5mm termination
Instruction manual
The packaging is fairly basic, as is expected from a pair of ultra-affordable IEMs. In comparison, the Moondrop Chu comes with a few extras, including ear hooks and a decent quality carry pouch. Even the Final Audio E1000 comes bundled with a carry pouch, but it is not very good.
CCA Lyra Review
Subscribe to Onsitego
Get the latest technology news, reviews, and opinions on tech products right into your inbox
For the CCA Lyra review, I used the earphones with my smartphones (Apple iPhone 13 Pro Max and Samsung Galaxy S22+) with the Shaling UA1 Pro. I also used them with my PC through the iFi Zen DAC Amp and with my Mac Mini M1 through the SMSL SU8 + Gustard H16 combo. I streamed Hi-Res Lossless music through Apple Music.
Design & Comfort
The CCA Lyra have a typical behind-the-ear IEM design. If you are someone who is dipping your toes in the audiophile world for the first time, you may have to learn how to wear them for the first few days. The earbuds have transparent plastic housing that's supported by a metal plate. You can clearly see the audio driver. The earphones look attractive, thanks to the diamond-like design.
Most of the space inside that housing is wasted, though. The driver takes less than half the space available inside the housing. It is clear that the housing could've been much smaller.
The earphones largely fit well and are comfortable to wear for a few hours. However, the part where the cable connects the housing brushes off slightly against my ear while adjusting or wearing the earphones, causing slight discomfort. But everyone has a different ear size and shape, and you may or may not face this issue. Again, I think that the earphone housing is unnecessarily large, and CCA could've made it much smaller and more comfortable. In comparison, the Moondrop Chu definitely feel more comfortable.
The bundled 4-core cable is flat and has a 3.5mm unbalanced termination. It also features an in-line microphone with a single button. You can use it to play or pause music playback or to accept and reject calls.
The cable is neither the best nor the worst I've seen in the price segment. I would recommend upgrading to a better cable for long-term durability. You should also invest in a small carrying pouch if you mean to take them on commutes. If you use a DAC or amplifier with a balanced output, you can get a cable with a 2.5mm balanced termination for the CCA Lyra.
Audio Quality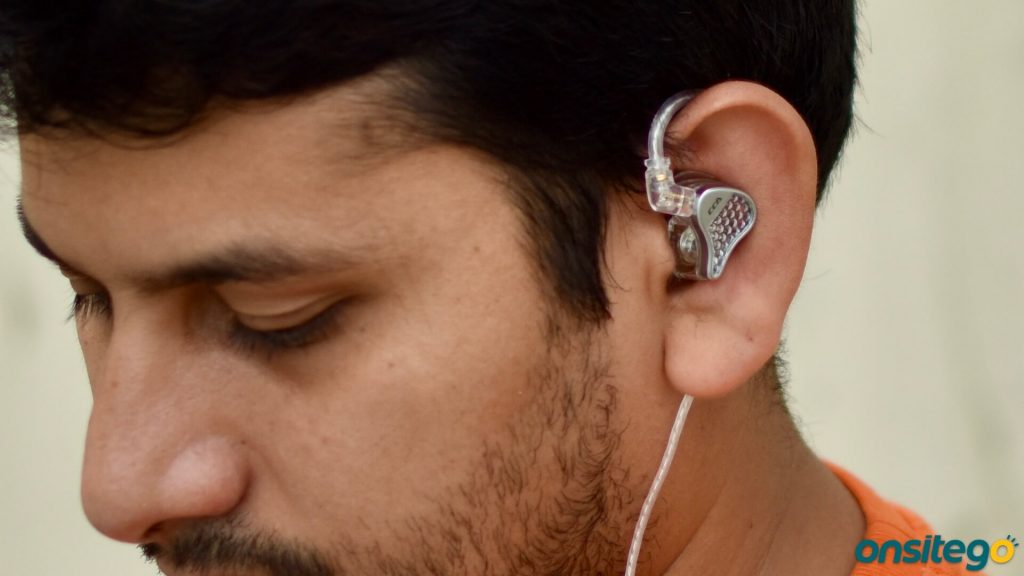 The CCA Lyra are extremely efficient, and they can be easily driven by almost any device. So, even if you're using a low-end smartphone, you don't need to think about its amplification needs. You don't need to use a dedicated DAC or amplifier to drive the earphones.
Overall, the CCA Lyra have a slight V-shaped audio tuning, which is quite popular among consumers, especially among those coming from mainstream earphones. There is more emphasis on bass and treble, while mids are a bit toned down. These earphones still sound more balanced than the ones from many other mainstream brands.
Let's talk about low-frequency sounds. The bass is slightly emphasised, but it is quite refined. The lows have a decent amount of punch and depth. The sub-bass is very well defined, and you can hear the rumble in hip-hop, EDM, and pop songs. There is also a clear separation between sub-bass and bass. The mid-bass has good tonality and texture.
Coming to the vocals, they're slightly underemphasised overall but still much better than mainstream earphones. Lower mids are a bit recessed, but the rise in higher mids brings back the much-needed clarity to the overall vocals. The mids are neither masked nor fatiguing like in some vocal forward IEMs.
The highs are somewhat lacking compared to the Moondrop Chu. That doesn't mean they're bad by any means. Lower highs are slightly elevated, while mid-high frequencies are scooped, and then there's a roll-off after a bit of a push.
The soundstage is average, but that's what I expect from affordable IEMs. You can spot instruments placed a bit wider on the virtual stage, but there's little to no room in terms of depth or height. In complex tracks, the placement of instruments gets tighter, and it's hard to differentiate where a particular sound is coming from. They're neither great nor below average in terms of soundstage and imaging.
Compared to the BLON BL-03, which sound exciting (in a good way), the CCA Lyra sound a little boring, but they have better technicalities. The Final E1000 sound a lot darker but offer meatier bass. I haven't tried the CCA CRA or the KZ ZSN Pro X yet, so I can't compare the Lyra to them. I recently reviewed the Moondrop Chu, which I ended up loving a lot. The Chu sound better overall compared to the Lyra despite being priced similarly. They have tighter bass, clearer and more natural vocals, and crisper highs.
Should You Buy CCA Lyra?
The CCA Lyra are among the better-sounding IEMs in the ultra-competitive space of affordable IEMs. The earphones have slightly V-shaped audio that a lot of general consumers like. They have a good amount of bass without it mudding the vocals. The highs are good, too, if not technically perfect. The soundstage is just okay, though. The CCA Lyra look attractive, thanks to the diamond-cut design and the metal plate. However, they are needlessly large, but some people might find an issue in terms of fit.
If you're someone who likes exciting sound, the CCA Lyra would be a good fit for you. Even though they emphasise bass and treble slightly, they still sound good in the grand scheme of things. Plus, they can be driven by almost any audio device, which would be great for someone who has just started to dip their toes in the audiophile world. If you don't like the bundled cable, you can replace it, too.
There's a lot going for the CCA Lyra. However, if you like a flatter audio profile and better technicalities, you should consider buying the Moondrop Chu instead.
The Review
CCA Lyra
PROS
Attractive design.
Good audio quality with slightly elevated bass and treble.
Can be easily driven by most audio equipment.
Removable cable.
Very good value for the money.
CONS
Unnecessarily big case might feel uncomfortable for some.
Slightly harsh treble.
Review Breakdown
Design

0%

Features

0%

Audio Quality

0%

Value

0%
CCA Lyra DEALS
We collect information from many stores for best price available
Best Price
₹1799