After introducing its Pentonic 2000 which was built for flagship 8K televisions, MediaTek has added an affordable Pentonic chipset in its lineup. The new Pentonic 700 chipset is less powerful in comparison, but still packs the technologies introduced with its Pentonic 2000. It can power 4K TVs with a 120Hz refresh rate and offers MEMC, Dolby Vision IQ, AI-Picture Quality (PQ) Scene Recognition, HDMI 2.1 with ALLM, and many more features. Let's have a look at what it brings to the table.
Pentonic 700: Features, Specifications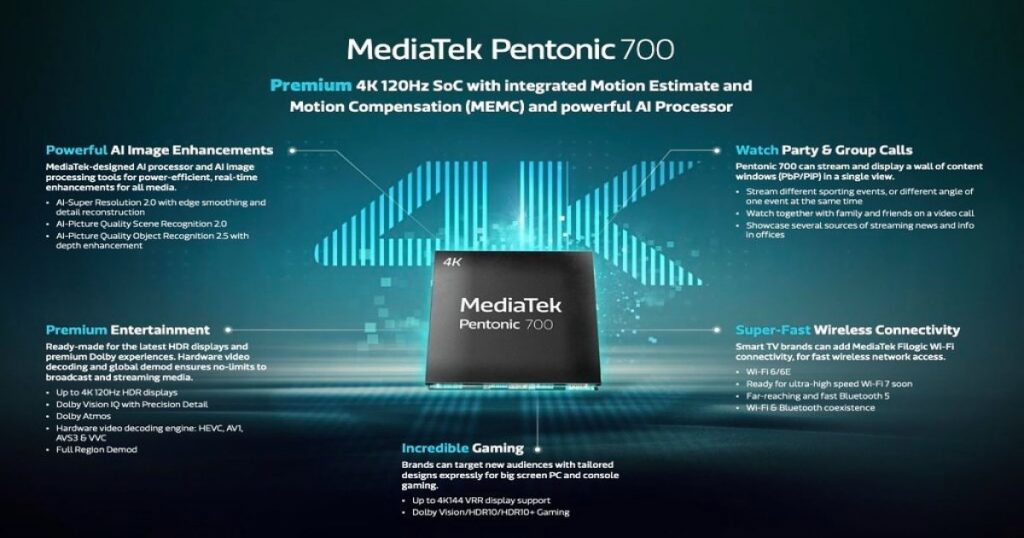 The Pentonic 700 may be a downgraded processor but still packs a punch. It features AI processing to improve picture quality, Dolby Vision IQ with Precision Detail support, integrated 4K 120Hz MEMC, and gaming optimizations. It packs in MediaTek's AI-Super Resolution, AI-Picture Quality (PQ) Scene Recognition, and AI-PQ Object Recognition features for edge smoothing and detail reconstruction. The Dolby Vision IQ with Precision Detail features varies the contrast in bright and dark areas in videos. 
The MediaTek Pentonic 700 chipset is developed to support smart televisions with a 120Hz refresh rate, but it can offer compatibility with 144Hz displays too. Gamers would appreciate its HDMI 2.1 support with Auto Low Latency Mode (ALLM) and Dolby Atmos technology, which together promise to provide an immersive audio/video experience. 
Subscribe to Onsitego
Get the latest technology news, reviews, and opinions on tech products right into your inbox
The chipset comes loaded with nifty features such as Picture-by-Picture (PBP) and Picture-in-Picture (PIP) with PQ enhancement. This enables users to watch content from different sources simultaneously or participate in video calls while consuming content.  
The Pentonic 700 comes with an inbuilt hardware video decoding engine with support for HEVC, AV1, AVS3, and VVC H.266 standards. TV manufacturers will have the option to pair the Pentonic 700 with MediaTek's Filogic Wi-Fi 6, Wi-Fi 6E, and Wi-Fi 7 for high-speed wireless connectivity solutions.
MediaTek states that smart TVs powered by the new Pentonic 700 should be in the market by the end of 2022. It is yet to reveal the list of OEM partners that would be utilising the new chipset in their products.