A lot of people have started switching from conventional wristwatches to smartwatches, especially those who want to keep a track of their health and fitness. Most smartwatches from the likes of Apple, Fitbit, Fossil, and Samsung cost upwards of ₹20,000. If you are someone who doesn't want to spend ₹20,000 or more on a smartwatch, there are a few decent options from the likes of Amazfit, Realme, and Xiaomi. Titan and Timex, which are popular for their conventional watches, have entered the smartwatch space. Recently, we had a chance to try out and review Titan's new smartwatch—Titan Smart—which is priced at ₹8.995.
The Titan Smart has a big circular display, all the important fitness and workout tracking features, sleep tracking, and even Alexa voice assistant. Here's our Titan Smart watch review after using it for more than a month.
Design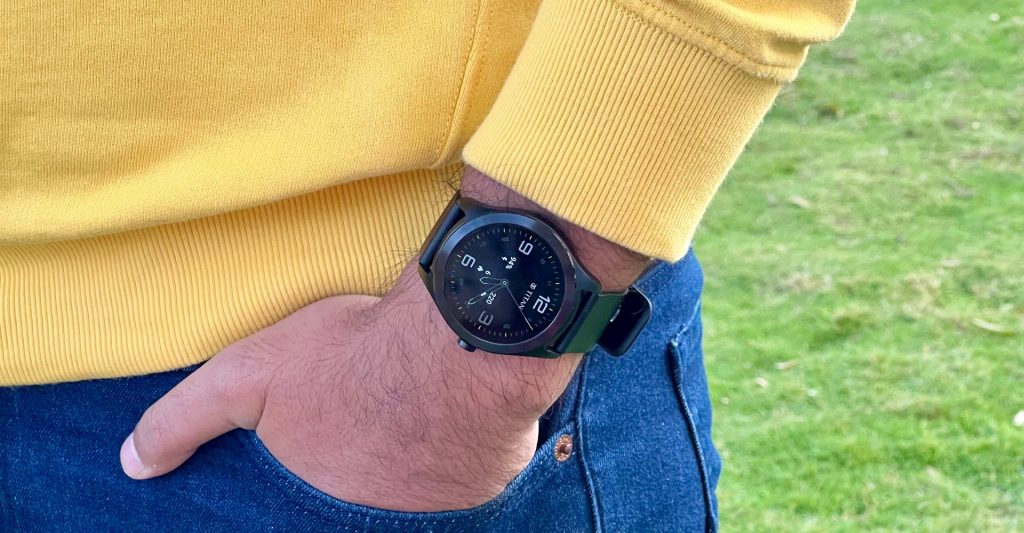 Titan chose a design that looks simple but works really well. The Titan Smart has a circular aluminium case and touchscreen display. And there's a silicone watch strap. The combination of a circular design and a silicone strap makes the smartwatch quite comfortable to wear. Even after sporting it for days on a stretch, I didn't feel any skin discomfort. The watch case is lightweight and the strap is soft and smooth.
Subscribe to Onsitego
Get the latest technology news, reviews, and opinions on tech products right into your inbox
The Titan Smart looks like most other conventional wristwatches and supports standard 20mm watch straps. It means that if you don't like the bundled watch strap, you can opt for a metal, leather, or fabric strap from any online or offline store.
There is a single button on the right side of the display, and you can use it to open or close the list of apps. At the rear of the case, there are pogo connectors to charge the device. Similar to most other wearables and smartwatches, the Titan Smart is IP67-certified, which means it is resistant to dust and water, and you can take it for a swim or in rain without worrying too much.
Display
As I mentioned earlier, the Titan Smart has a circular display. It features a 1.32-inch TFT LCD display with 320×320 pixels resolution. While the display size and sharpness are on par with most other watches in the segment, the display technology is not. The colours look quite dull and the viewing angles are acute. Blacks look like greys and the display looks sunk into the case, and not laminated to the mineral glass. Also, the watch lacks the Always-On Display feature. This is where the Titan has cut the corners with its smartwatch.
In comparison, most other smartwatches from Amazfit, Realme, and Xiaomi use OLED displays that offer much more immersive visuals, thanks to punchier colours, wider viewing angles, and higher brightness. Moreover, the Titan Smart also shows stuttery animations, which could either be due to a 30Hz display or due to bad software design, and I think it's the former.
Fitness & Health Tracking Performance
The Titan Smart has a decent fitness tracker. It has all the basics that you can expect from a fitness monitoring device, including an accelerometer, a gyro sensor, and a heart-rate monitor. It can even measure VO2Max, which can be helpful for serious runners.
On top of that, it even features an SpO2 sensor, which is great for keeping a tab on your oxygen levels, especially during these testing COVID-19 pandemic times. You shouldn't depend on SpO2 readings from the device (or any other smartwatch) for medical emergencies because optical sensors are not very accurate. Plus, SpO2 levels are not calculated at regular intervals, and you have to measure those readings manually every time.
When tested side-by-side with the Apple Watch Series 7, the Titan Smart was in the same range in terms of tracking steps, indoor and outdoor runs, and cycling. However, since the Titan Smart lacks built-in GPS, it can't track your outdoor runs or cycling without you carrying the companion smartphone.
The Titan Smart can track 14 workouts, including outdoor run, indoor run, outdoor walk, indoor walk, outdoor cycle, indoor cycle, pool swimming, open water swimming, hiking, yoga, rowing, elliptical, cricket, and others. Competing smartwatches can track a lot more workout types. Some workouts like outdoor walks or runs are detected automatically. Ten minutes after I started my brisk walk every evening, the smartwatch detected it automatically and showed me statistics such as steps, calories burned, and distance covered.
Sleep tracking was quite accurate and I was impressed by it. The Titan Smart was even better than the Apple Watch Series 7, and on par with the likes of Galaxy Watch 4 and the Mi Band 4. The Titan Smart could track even my naps, which is not possible with the Apple Watch Series 7.
Women can also use the Titan Smart for tracking periods. Other features include breathing exercises and stress tracking. You can set the breathing rhythm and duration goals for breathing exercises. You can also set reminders for drinking water and getting up from your chair at regular intervals.
While the Titan Smart is decent for everyday health and workout tracking, it lacked any form of fitness goals. Unlike many other smartwatches and fitness trackers, the Titan Smart doesn't ask you how many steps you want to take every day or how long you want to work out. It also doesn't track if I got up from my seat after it sent me a reminder. So, without those goals in view, it didn't push me enough to complete or surpass my daily fitness goals.
Software
The Titan Smart runs proprietary software, which is not a bad thing, and it pairs with any modern Android smartphone or iPhone via the Titan Smart app. Unlike the Titan Smart app, which is surprisingly good-looking, the software on the watch itself is quite basic. Moreover, the whole UI looks a bit dated and the animations and transitions appear quite stuttery and janky. I am not sure whether those janky animations are due to bad software design, a weak processor, or if Titan has used a cheap 30Hz display.
The My Fitness app shows all your fitness data such as daily steps, calories burnt, distance covered, and workout times. The Sports section is where you can start various workouts with some goals set. Sports Records shows all your tracked workouts and related stats. The Sleep app is where your can view your sleep quality and time. There are individual apps for tracking heart rate, SpO2, stress, and breathing exercises.
There are apps for alarm, stopwatch, timer, and weather, and all of them work well but are quite basic. The camera app can be used to trigger your smartphone's camera shutter. The Find Phone is quite useful to find your phone if you've lost it somewhere around.
There are 100 watch faces, and some of them are quite good-looking. But due to the bad display, they don't look as good as they could've on an OLED display. The watch faces can't be edited and you can't install third-party watch faces. So, if you're someone who likes to play around with watch faces, you'll be disappointed.
Titan has also implemented Alexa on its smartwatch. It offers answers to questions and can control compatible smart home devices. I was able to turn on and off smart plugs and lights in my home. The watch was also able to tell me cricket scores and most other things that you expect from Alexa.
The smartwatch also reliably mirrors smartphone notifications, but you can't act on them, which is true for most other smartwatches in the same price segment. If you want actionable notifications, you'll have to spend upwards of ₹10,000 on watches from brands like Apple, Fitbit, and Samsung.
Overall, the software is functional but extremely basic. The features that are present work well, but Titan could've done a lot more with the smartwatch. There's not even a calendar app. I had expected a bit more on that front. Competing watches have more features and workout options. Some of them even feature a voice assistant that can work offline.
Battery Life
After a full charge, which takes a couple of hours. Titan promises that its smartwatch can last up to 14 days on a single charge. In my testing, I had to charge the device only thrice. The watch lasted more than 12 days on average. At the time of writing this review, the Titan Smart still has a 15% charge left, which is enough to last at least two days. This is quite impressive.
The Titan Smart lasts slightly longer than most other competing smartwatches from Amazfit, Realme, and Xiaomi, and much longer than smartwatches and fitness trackers from Apple, Fitbit, and Samsung.
Conclusion
The Titan Smart is a good-looking smartwatch. It's comfortable to wear over a long period of time and is resistant to dust and water, so you can take it places. It tracks health and fitness with decent accuracy. It even offers Alexa and has excellent battery life. However, basic software and bad display quality take the whole experience down a bit. Moreover, it also lacks an onboard loudspeaker, which means that you can't take calls on your wrist and there's no onboard storage which means you have to take your phone with you if you want to listen to music while working out.
At a price of ₹8,995, we feel that the Titan Smart could've offered a better screen and a better software experience. It's not a bad smartwatch by any means, but Titan needs to improve its offerings if it wants to compete with the likes of Amazfit, Realme, TicWatch, and Xiaomi.
The Review
Titan Smart
At a price of ₹8,995, we feel that the Titan Smart could've offered a better screen and a better software experience. It's not a bad smartwatch by any means, but Titan needs to improve its offerings if it wants to compete with the likes of Amazfit, Realme, TicWatch, and Xiaomi.
PROS
Comfortable design.
IP67 rating for dust and water resistance.
Decent workout tracking and accurate sleep tracking.
Alexa works well.
Well-designed smartphone app.
Excellent battery life.
CONS
Display quality is not on par with competing smartwatches.
The software on the watch leaves a lot to be desired.
No loudspeaker for taking calls.
No onboard storage for offline music playback.
Review Breakdown
Design

0%

Display

0%

Performance

0%

Software

0%

Battery Life

0%

Value

0%