Let's face it, most laptops will not function without creating some form of sound. Sounds coming from the moving parts of a laptop are a fairly reasonable phenomenon and are nothing to be worried about. Things, however, start becoming worrisome if your laptop is noisier than your grinding machine. If you are facing excess noise from the laptop or are hearing a weird rattling noise from the laptop, it is nothing worth ignoring, and you should immediately resort to fixing the issue.
In this article, we have listed the causes of the weird rattling noise coming from your laptop and have provided solutions for the same.
Why Is Your Laptop Making A Rattling Noise?
Primarily, the reason for a laptop making a weird rattling noise is a malfunctioning moving part of the machine. While there used to be plenty of moving parts in the older-generation laptops, they have been fairly limited in the modern-day laptops, namely:
Fan
HDD
CD/DVD/Blu-Ray Drive
Subscribe to Onsitego
Get the latest technology news, reviews, and opinions on tech products right into your inbox
Furthermore, there could be other reasons responsible for the rattling noise, such as an unbalanced surface and loose body panels. These, however, are not problems that require one to be a rocket scientist to be able to fix, as placing the laptop on an even surface and tightening the panels do help fix these. As for the three that we mentioned above, let's discuss them in detail.
1. Fan
Usually, a laptop fan is one of the culprits when it comes to these weird rattling noises. There are multiple reasons for a laptop fan producing unwanted noises and, thereby, affecting the overall user experience, such as:
A foreign particle has clogged the fan
The fan has gotten loose
High CPU temperature
The fan is faulty and needs a replacement
A. Dust And Debris
This is a pretty common scenario for portable machines like laptops. Dust, dirt, and debris tend to accumulate around the fan area, thereby, increasing the friction for the fan to rotate, and creating a rattling noise. When your fan blades accumulate dust in the form of fur, it is very natural that it will not be able to operate as intended, and it will start creating much-dreaded noise.
To fix this problem, all you need is a screwdriver to open the back panel of your laptop and clean the fan carefully with a soft brush or anything similar to blow the dust. Kindly refrain from using your hair dryer to perform this heroic task as the heat coming from the hair dryer will likely damage the internals of your laptop, thereby increasing the issue rather than fixing it.
Also Read: Laptop Fan Not Working? Try These Methods To Get It Working
B. Loose Fan
All moving parts tend to show this sign in their life cycle, one day or the other. If your laptop fan is creating a lot of unwanted noise, there are chances that it has gotten loose from the laptop's chassis over a period of time. It might look clean and healthy, but it might have gotten so loose as to create the rattling noise because it might have started wobbling while spinning. The wobbling and hence, the vibration, could be the culprit behind the rattling noise of your laptop.
To fix this problem, you need to open the back of your laptop and fasten the screws and pins of your laptop fan. Also, check for the rubber pads placed between the laptop fan and the mounting brackets to ensure that it has not gone loose. It is a crucial part of keeping the vibrations, and thereby, noise, in check.
C. High CPU Temperature
If your laptop CPU is overheating, it is pretty obvious for your laptop fan to start working harder to ensure that an optimum temperature is maintained to avoid any sort of failure. The faster the fan rotates, the more noise it makes. So, if you are hearing increased noise from the fan because it is spinning faster, there is nothing to worry about. It is normal. However, if you want the fan to spin at a slower speed, and thereby, make lesser noise, try using the laptop in an area where the temperature is lower or use an AC or any other external cooling mechanism to keep the laptop's temperature in check.
There is also a possibility that your laptop CPU has had to work harder than normal because you are using too many resource-intensive apps at the same time. This will, in turn, put excess pressure on the laptop fan, and it might cause an increased noise from the fan. If that is the case, try to give your laptop some relaxation, and give it room to breathe.
D. The Fan Needs Replacement
If nothing works out, there is a strong possibility that your laptop fan has developed a permanent fault, which is causing it to make unwanted noise. If this is the case, to stop your laptop from making a weird rattling noise, you will have to get the fan replaced. If you are confident that you can replace it by yourself, you can order a compatible fan for your laptop and replace the same. If, however, you feel that it is a bit too difficult for you to pull off on your own, you should seek professional guidance for the same.
Also Read: Why Is Your Laptop Overheating? Here's How You Can Fix It At Home Easily
2. HDD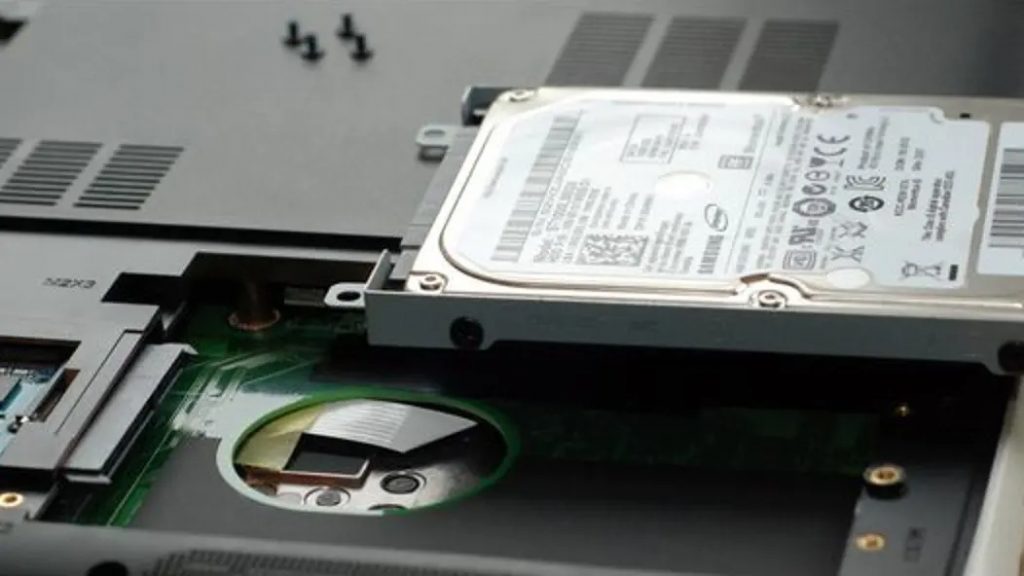 Hard Drives are the second-most vulnerable moving parts of a laptop, which might be the culprit behind the rattling noise. HDDs usually make very low-pitched whirring sounds, which mostly go unnoticed. If, however, the laptop is creating a lot of unwanted noise, there is a chance that the HDD needs to be checked. There are two possibilities, namely:
1. The HDD Has Got Loose
HDDs are often seen showing this problem. It is quite possible that the vibrations caused by your laptop's HDD have got it loose, and it has now started vibrating against other components, thereby causing the unwanted rattling noise. This is not good news because of so many reasons. For starters, there's the noise you have to deal with. Then, there's a risk of the HDD getting permanently damaged because of the vibrations and hence losing your data. Lastly, the other components the HDD is vibrating against are also prone to get damaged because of this.
Therefore, it becomes imperative that you fix the loose HDD. To do that, you need to open your laptop's back panel and check for loose connections/screws. If you are unable to do so, you should seek professional support.
2. The HDD Is Failing
If the rattling noise has gotten worse lately, there are chances that your HDD is failing. In this case, you will have to get your hard drive checked and replaced. The first thing that we will suggest you do will be to take a backup of your sensitive/important data as soon as possible. If needed, create an online cloud account immediately to take the backup.
3. CD/DVD/Blu-Ray Drive
A CD Drive usually keeps making noise till the time the disk is spinning. This, however, does not mean that a user will give it the liberty to start interrupting the overall experience with an unneeded rattling noise. There could be numerous reasons behind a laptop's CD drive causing the rattling noise, namely:
1. Dust And Dirt
Much like any other moving part, your laptop's CD drive is also prone to accumulating foreign objects, such as dust and dirt. If your laptop is causing a lot of noise, there are chances that its CD drive is clogged. Check the disk for dirt and dust after taking it out of the drive, which will potentially give you an idea of how severe the clogging is. If there's excess dirt and dust, you will need to clean it before you start using it again.
2. Loose CD Drive
If your CD Drive has gotten loose, it will obviously cause a lot of unwanted noise, as it will start vibrating against other components. You need to check for the loose connections of your laptop's CD Drive and fasten them to get rid of the rattling noise.
---
By making use of the solutions that we mentioned, you will most likely be able to fix the unwanted rattling noise of your laptop. We hope that the article helped you out in solving your laptop problem. If it did, do let us know in the comments section below.