Airtel had recently hiked the price of its prepaid plan in India. The telco increased the price of all its prepaid plans in the country by almost 20-25%. Days after the price hike, Airtel has now introduced a new ₹666 prepaid plan in India. The new plan by the telco is believed to compete with Jio and Vodafone Idea (Vi) plans which offer somewhat similar benefits. In the ₹666 plan, Airtel is offering a validity of 77 days. Let's check out ahead what benefits the ₹666 Airtel prepaid plans have to offer:
Airtel ₹666 Prepaid Plan Validity, Benefits
First spotted by the folks at TelecomTalk, the ₹666 plan is listed on Airtel's website. Under this new plan, Airtel is offering 1.5GB of high-speed daily data, 100 SMS per day, unlimited voice calling, and Airtel Thanks benefits. After the subscribers reach the high-speed daily data limit, the browsing speeds will be reduced to 64kbps. Airtel has set the validity of this new plan to 77 days.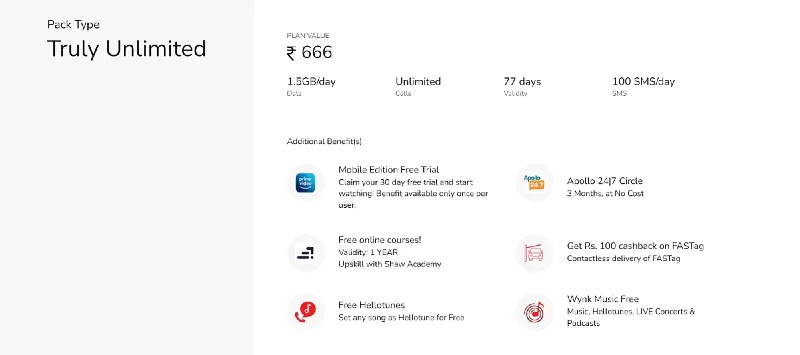 Apart from the above-mentioned benefits, the telco is also offering 30 days free trial to Amazon Prime Video mobile subscription, free Hellotunes, Apollo 24/7 Circle for three months, 1-year Upskill with Shaw Academy, ₹100 cashback on FastTag transactions, and free Wynk Music. The newly launched plan by Airtel has similar benefits to that of Airtel ₹719 plan, except that the latter has a validity of 84 days. Before the price hike, the ₹719 Airtel plan used to cost ₹598.
Subscribe to Onsitego
Get the latest technology news, reviews, and opinions on tech products right into your inbox
Also Read: Airtel Conducts 5G Trials In Rural Area, Claims To Achieve 200Mbps Down Speed
The new plan which Airtel has introduced is believed to compete with Jio and Vodafone Idea (Vi) ₹666 plan. Vodafone Idea (Vi), in a recent development, had introduced the ₹666 plan. The ₹666 Vi plan offers data, voice benefits, SMS messages and 77 days validity, just like Airtel's new plan. Compared to both Airtel and Vodafone Idea's (Vi) plans, Jio's plan offers 84 days validity with the same data, SMS messages, and voice benefits.