OPPO has launched the next iteration of ColorOS—ColorOS 13—and it is based on the Android 13 operating system that Google released a few weeks ago. The new custom software skin from OPPO succeeds ColorOS 12. It features 'Aquamorphic Design,' which is a fluid, vibrant, and inclusive UI. It also features a new Always-on Display design, smart home screen management, updated design of the notifications panel, a multi-connect feature, an Auto Pixelate option to mask private things in images, a meeting assistant, and much more.
Apart from announcing ColorOS 13, OPPO also detailed ColorOS 13 release date for compatible smartphones and tablets. Before we move on to those details, let us check out the detailed ColorOS 13 features.
Best OPPO ColorOS 13 Features
Aquamorphic Design For UI
Quantum Animation Engine
Dynamic Computing Engine
Smart Always-on Display, Homeland Animation
Smart Home Screen Management
Updated Notification Panel
Multi-Screen Connect
Meeting Assistant
Privacy, Security Protection, Auto Pixelate Feature
1. Aquamorphic UI Design
The all-new ColorOS 13 adopts a new Aquamorphic Design aesthetic. The new design includes theme palettes that feature the warm blue colour that's inspired by the ocean. Furthermore, ColorOS 13 also has eye-friendly fonts with improved readability and a card-style layout that displays information in a concise and comfortable visual experience based on the Aquamorphic Design language.
Subscribe to Onsitego
Get the latest technology news, reviews, and opinions on tech products right into your inbox
The new custom skin offers a more instinctive user experience via the integration of different Aquamorphic Effects into the system animations, UI, and Quantum Animation Engine. ColorOS 13 also brings Adaptive Layouts, especially for different screen sizes such as foldable phones, thereby offering highly recognizable icons to enhance readability and overall ease of use.
2. Quantum Animation Engine
OPPO has optimized its Quantum Animation Engine with improved behavioural prediction, which is designed to react naturally when a user utilises multiple gestures at the same time. OPPO says that the system will prioritize the intended commands, thereby responding instantly when the user interacts with the UI. All of this makes the UI more fluid and responsive.
3. Dynamic Computing Engine
With ColorOS 13, OPPO is debuting the Dynamic Computing Engine, the company's proprietary system-level technical solution. It is developed to deliver a smooth and stable system and all-around improvements to the fundamental user experience. OPPO claims that with this new solution, devices will offer increased battery life and the ability to keep more apps open in the background.
The Dynamic Computing Engine will improve the scheduling of hardware resources to extend battery life by achieving a better balance between high performance and low power consumption. Furthermore, this new solution also helps to keep more apps running in the background, making it possible to switch between multiple apps without losing the status within an app or experiencing lag while switching.
4. Smarter Always-On Display With Spotify Music Controls, New Homeland Animation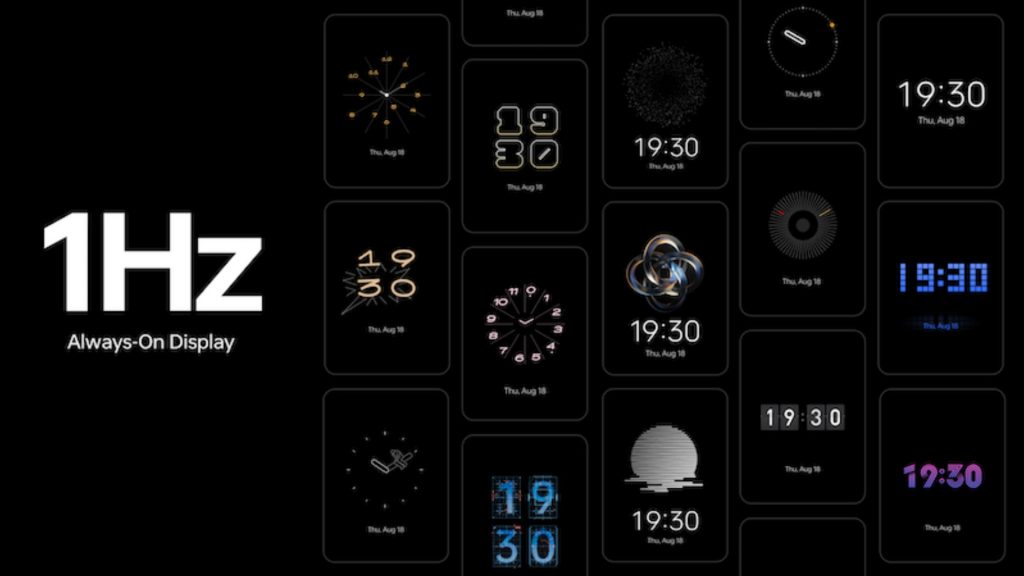 OPPO has updated its Always-on Display functionality in the ColorOS 13. The new custom skin now includes a Smart Always-on Display which showcases information related to music and food delivery apps, giving users quicker access to information and more convenient control over music playback and other functions.
Furthermore, OPPO claims that it has partnered with world-leading software and service providers, including Bitmoji and Spotify, to provide a wide range of convenient and personalized experiences through the Smart Always-On Display. OPPO says that due to the LTPO 2.0 technology, the Always-On Display refresh rate is reduced to just 1Hz, which will help save 30% power consumption for some scenarios.
Apart from improvising the Always-on Display functionality with new features, OPPO also has added a new animation for the same called 'Homeland,' which depicts powerful scenes of wild animals in nature. The new animations resemble how animals would appear based on daily temperature changes to draw attention to climate change and the environment we share.  
5. Smarter Home Screen Management
The all-new ColorOS 13 software includes smart home screen management features, especially for the large folders, Shelf, and home screen widgets. This gives users the ability to easily and quickly access the information they need in the way that works best for them.
6. Updated Notification Panel
OPPO has also updated the design of the notification panel with ColorOS 13. The new UI now displays two tiles at the top, one for Wi-Fi and the other for mobile network data, followed by the music player tile on the right. Just below the music player tile, there are five quick setting toggles and then a display brightness slider.
7. Multi-Screen Connect
With the introduction of ColorOS 13, OPPO has improved the multi-device user experience with the Multi-Screen Connect feature. It offers seamless connectivity between smartphones, OPPO Pad Air, and between smartphones and PC. Users can transfer files easily in more file formats without hardware limitations. If a user is trying to connect their smartphone to the PC through Multi-Screen Connect, they can display multiple mobile apps simultaneously on the PC screen.
8. Meeting Assistant
OPPO is adding a new feature called Meeting Assistant, letting users attend meetings without distractions. The new Meeting Assistant can prioritize wireless data packages to improve online meeting connections. Furthermore, it can also simplify the banner notifications to reduce distractions and lets users add an OPPO Notes shortcut to take meeting minutes with notes in a small pop-up window.
9. Privacy And Security Protection
OPPO is adopting all the privacy and security protection rules which were introduced with Android 13. For example, the system will automatically delete the clipboard history after a short time to prevent sensitive information leaks. Additionally, with the Nearby Wi-Fi 6 feature, users can enjoy Wi-Fi without revealing their location information. 
The company is also adding a new feature dubbed Auto Pixelate with ColorOS 13. The Auto Pixelate feature can recognize and blur out the profile photos and names in chat screenshots automatically with one tap.
How To Apply For The ColorOS 13 Beta Update Program
To install the ColorOS 13 beta update on eligible devices, users will have to head over to Settings > About Device, then tap the icon on the top right and click Trial Version and fill in the required information and agree to the terms and conditions.
Once your application is verified and accepted, you will be getting the ColorOS 13 beta update within a couple of days or more, depending on the availability.
ColorOS 13 Release Date, Schedule
OPPO plans to update nearly 35 smartphone models within the year to the ColorOS 13. Thereby, it aims to cover more than 60 countries and regions and as many as 160 million users. According to the company, this is the biggest update plan ever in the history of ColorOS. The rollout has already begun for the OPPO Find X5 and the OPPO Find X5 Pro. Furthermore, OPPO will then continue to bring ColorOS 13 to over 20 more devices starting in 2023. Below is the list of devices that are confirmed to receive the Android 13-based ColorOS 13 update: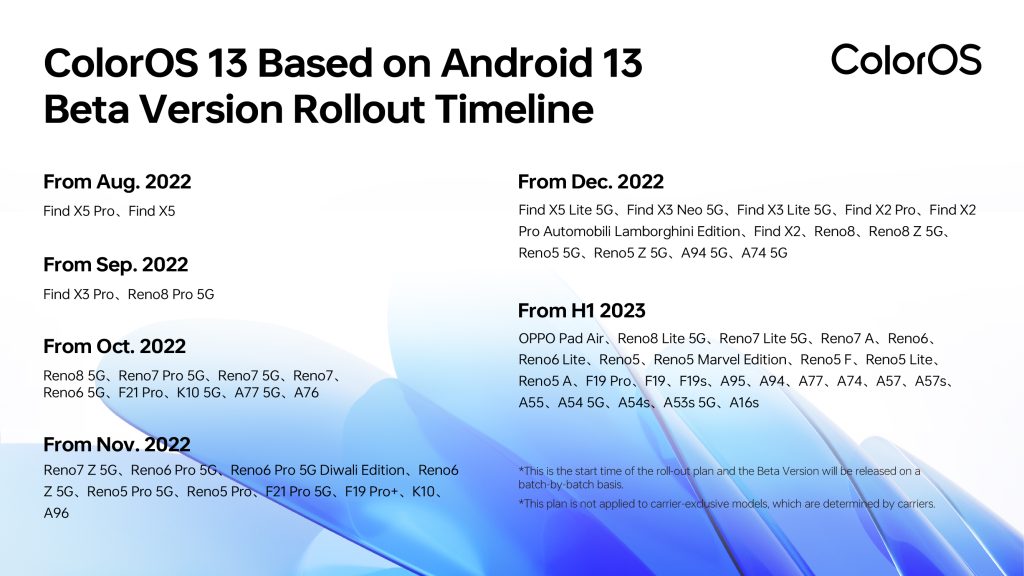 OPPO ColorOS 13 (Android 13) Update: Eligible Devices
August 2022 Onwards
OPPO Find X5 Pro
OPPO Find X5
September 2022 Onwards
OPPO Find X3 Pro,
OPPO Reno 8 Pro 5G
October 2022 Onwards
OPPO Reno 8 5G
OPPO Reno 7 Pro 5G
OPPO Reno 7 5G
OPPO Reno 7
OPPO Reno 6 5G
OPPO F21 Pro
OPPO K10 5G
OPPO A77 5G
OPPO A76
November 2022 Onwards
OPPO Reno7 Z 5G
OPPO Reno 6 Pro 5G
OPPO Reno 6 Pro 5G Diwali Edition
OPPO Reno 6 Z 5G
OPPO Reno 5 Pro 5G
OPPO Reno 5 Pro
OPPO F21 Pro 5G
OPPO F19 Pro+
OPPO K10
OPPO A96
December 2022 Onwards
OPPO Find X5 Lite 5G
OPPO Find X3 Neo 5G
OPPO Find X3 Lite 5G
OPPO Find X2 Pro
OPPO Find X2 Pro Automobili Lamborghini Edition
OPPO Find X2
OPPO Reno 8
OPPO Reno 8 Z 5G
OPPO Reno 5 5G
OPPO Reno 5 Z 5G
OPPO A94 5G
OPPO A74 5G
First Half Of 2023
OPPO Pad Air
OPPO Reno 8 Lite 5G
OPPO Reno 7 Lite 5G
OPPO Reno 7A
OPPO Reno 6
OPPO Reno 6 Lite
OPPO Reno 5,
OPPO Reno 5 Marvel Edition
OPPO Reno 5 F
OPPO Reno 5 Lite
OPPO Reno 5 A
OPPO F19 Pro
OPPO F19
OPPO F19s
OPPO A95
OPPO A94
OPPO A77
OPPO A74
OPPO A57
OPPO A57s
OPPO A55
OPPO A54 5G
OPPO A54s
OPPO A53s 5G
OPPO A16s
---
This is everything you need to know about Android 13-based ColorOS 13. If you have an OPPO device, you would get the ColorOS 13 update within a matter of months, depending on the model.