One of the most awaited moments in the Indian telecom industry—5G spectrum auction—concluded yesterday. The Indian government received 5G spectrum auction bids totalling ₹1,50,173 crores, or 71% of the total 5G spectrum that was available to bid.
There were 40 rounds in the 5G spectrum auction, and a total of 72097.85MHz of 5G spectrum was purchased by telecom companies with a 20-year validity term in a variety of bands: Low-Band, Mid-Band (Sub-6GHz), and High-Band (mmWave).
The Low Band 5G spectrum was available in 600MHz, 700MHz, 800MHz, 900MHz, 1,800MHz, 2,100MHz, and 2,300MHz. The Mid-Band 5G spectrum was available in the 3,300MHz band, while the High-Band 5G spectrum was available in the 26GHz band.
Subscribe to Onsitego
Get the latest technology news, reviews, and opinions on tech products right into your inbox
Reliance Jio, as expected, was the top spender in the 5G spectrum auction in India. Bharti Airtel was the second highest bidder, while Vi (Vodafone Idea) was a distant third. Adani Networks Limited, was the smallest buyer in India's 5G spectrum auction. Let us have a look at everything that happened in the 5G spectrum auction in India and what it means for you.
Reliance Jio 5G Spectrum Auction Details
Reliance Jio said that it paid ₹88,078 crores for buying rights to a total of 24,740MHz 5G spectrum. It now has access to spectrum in the 700MHz, 800MHz, 1,800MHz, 3,300MHz, and 26GHz bands. The company said that it would be the only operator offering pan-India True 5G services with higher speeds, reduced latency, and extensive coverage, thanks to its unrivalled 700MHz spectrum footprint.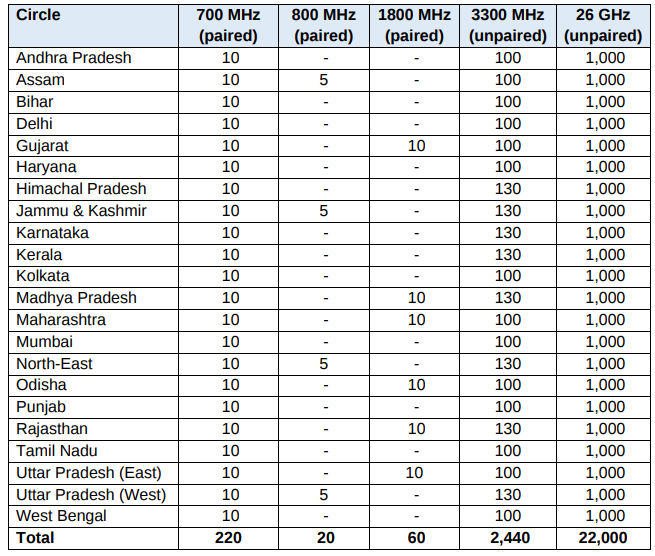 Jio continued by stating that its 5G solution was created in India by Indians to meet Indian needs. The company claimed that due to its widespread fibre footprint (Jio Fiber), all-IP network without any legacy infrastructure, in-house 5G stack, and solid international alliances throughout the technology ecosystem, it is completely prepared for 5G deployment in the least amount of time.
In a statement, Akash M Ambani, Chairman, Reliance Jio Infocomm said that the company is ready to roll out 5G services in India starting August 15, 2022. That's just a couple of weeks away from now.
Bharti Airtel 5G Spectrum Auction Details
Bharti Airtel claimed to have secured 19,800MHz of spectrum by obtaining a 26GHz and 3.5GHz footprint across India. Additionally, some mid-band spectrum was obtained, too. In the auction, the company spent ₹43,084 crores.
The company said that it had worked diligently to amass the greatest reservoir of the low and mid-band spectrum (Sub-GHz, 1,800MHz, 2,100MHz, and 2,300MHz bands), which can be utilised to produce 100x capacity at the lowest cost and the best 5G coverage.
Airtel intends to roll out 5G services across the nation, beginning in major cities. The company claimed that it is certain that the country's higher-quality client base would quickly adopt 5G technology. Additionally, Airtel's dominant position in the enterprise market will open up a wide range of industrial use cases, further solidifying the company's dominance in the B2B sector.
Vodafone Idea 5G Spectrum Auction Details
Vi (Vodafone Idea) purchased a total of 2,668MHz of 5G spectrum in India, which is split between mmWave (26GHz band) and mid-band (3,300MHz band) in 17 priority circles. The company spent ₹18,784 crores to get a license for the 5G spectrum in India.
According to the company, this will allow it to give its clients a superior 5G experience, as well as boost its enterprise products and open up new avenues for corporate expansion in the rapidly approaching 5G future.
The company was able to get an additional 4G spectrum in three circles in Punjab, Karnataka, and Andhra Pradesh, which would enhance the consumer experience even further. This plan may help Vodafone gain some market share, as they have been on a losing streak for a few years now, especially since the entry of Reliance Jio in the telecom sector.
Adani Group 5G Spectrum Auction Details
Adani Group, the newest entrant in the space, paid ₹212 crores to obtain a license for the 400MHz spectrum in the 26GHz band (mmWave). It plans to use the spectrum to deliver private network solutions as well as increased cybersecurity in the airport, ports and logistics, electricity production, transmission, and distribution, and different manufacturing processes.