Reliance Jio has expanded its 5G services across Delhi-NCR region that includes Delhi, Gurugram, Noida, Ghaziabad, Faridabad, and other major locations. The company claims to be the first to offer 5G coverage in these regions. The telco had recently launched the Jio True 5G services in Bengaluru and Hyderabad.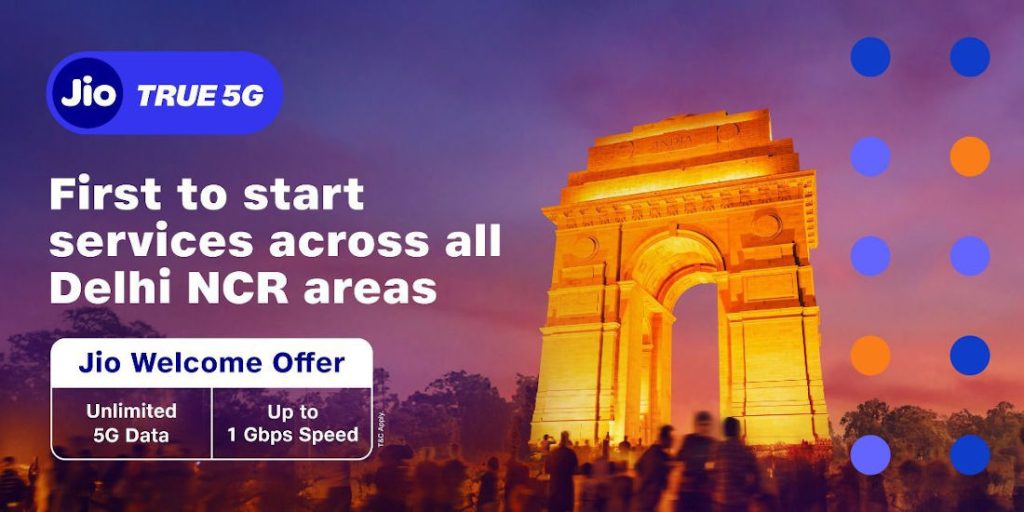 Last month, Jio rolled out its 5G network services to users residing in Mumbai, Delhi, Kolkata, Varanasi, and Chennai. The telecom giant invites Jio users in the region to access the services via an invite-only system. To get an invitation, Jio users are required to download the MyJio app on their 5G enabled smartphones. They can open the app and tap on the invite to register for Jio's 5G services.
Also Read: OxygenOS 12 A.09 Software Update Brings September 2022 Android Security Patch And Jio 5G Support For OnePlus 10R
Subscribe to Onsitego
Get the latest technology news, reviews, and opinions on tech products right into your inbox
As part of the "Jio Welcome Offer" users are not required to pay any additional charges for the services. According to the company, invited Jio users in the region can access Unlimited 5G Data at up to 1 Gbps and experience Jio True 5G.
As per the latest update on Jio 5G, the services be present across all important localities and areas, including:
Most residential areas
Hospitals
Schools, Colleges, and Universities
Government buildings
High streets
Malls & Markets
High footfall areas such as tourist spots and hotels
Tech-parks
Roads, Highways, and Metros
Notably, the telco will invite more Jio users in Delhi-NCR to enroll for the Jio Welcome Offer. It will allow them to experience Unlimited Data at up to 1Gbps+speeds, at no additional cost.
Commenting on the launch, Jio Spokesperson said,
Covering the majority of the National Capital and NCR region is a matter of pride for us. Jio is expanding its True-5G reach at a rapid pace and has already rolled out a large portion of the planned True-5G network in this area. It is the only operator to be present across Delhi-NCR region with True-5G services.
What are your thoughts on the Jio True 5G services in India? Do let us know in the comments section below.