MSI has introduced its CreatorPro range of laptops, which it likes to call Mobile Workstations. These laptops are targeted towards creative professionals. The CreatorPro series includes five laptop models, which pack in up to Quad HD+ display resolution, Intel's 12th Generation Alder Lake CPUs, and Nvidia GTX GPUs.
MSI CreatorPro Z17 and CreatorPro Z16P Highlights
The MSI CreatorPro Z17 and Z16P come in different display sizes. However, both offer Quad HD+ display resolution, a 165Hz screen refresh rate, and 100 percent DCI-P3 coverage. Both the laptops are powered by Intel's Core i9-12900H comprising 14 cores and 20 threads. These professional laptops also come loaded with Nvidia's most powerful laptop GPU—the Nvidia RTX A5500. You can also get these laptops paired with slightly lower specced Nvidia RTX A3000. Both the CreatorPro Z17 and CreatorPro Z16P come with two RAM slots with support for 64GB DDR5 RAM with a 4800MHz frequency.   
The MSI Creator Z17 comes with 2 x Thunderbolt 4 ports, 1 x USB Type-A port, HDMI 2.1, and an SD card reader. The MSI Creator Z16P misses out on an HDMI port and comes with a 1 x Thunderbolt 4 port and 1 x USB Type-C port. For biometrics, both laptops come with a fingerprint sensor and Windows Hello facial recognition via a Full HD webcam. They also support the MSI stylus pen.  
MSI CreatorPro M17, CreatorPro M16, and CreatorPro M15 Highlights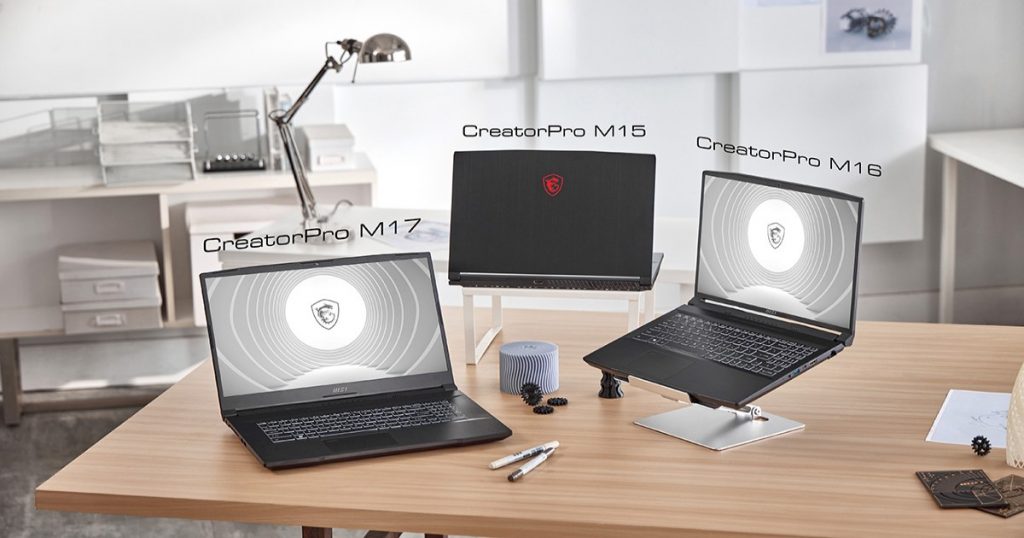 Subscribe to Onsitego
Get the latest technology news, reviews, and opinions on tech products right into your inbox
The MSI CreatorPro M16 sports a 16-inch IPS panel with a 16:10 aspect ratio, Quad HD+ resolution, and 100 percent DCI-P3 coverage. The CreatorPro M17 and Creator M15 both come with 17-inch and 15-inch IPS panels respectively with a 16:9 aspect ratio. The CreatorPro M17 comes with a Quad HD+ screen, whereas the CreatorPro M15 makes do with a Full HD screen.
The MSI CreatorPro M17 and M16 are powered by up to Intel's 12th Generation Intel Core i7-12700H processor with 14 cores and 20 threads. The CreatorPro M15 comes with Intel's older 11th Generation Intel Core i7-11800H with 8 cores and 16 threads.
Talking about the graphical prowess of these laptops, the Creator M17 and CreatorPro M16 come with options of NVIDIA RTX A1000 4GB, RTX A2000 8GB, or RTX A3000 12GB laptop GPUs. The CreatorPro M15 notebook gets the NVIDIA RTX A1000 GPU. All the laptops support 64GB of DDR4 RAM.
All the three aforementioned notebooks come with 1 x USB Type-C port, 3 x USB Type-A ports, 1 x HDMI 2.0, and Gigabit Ethernet. They come with a 720p webcam for video calling. All the laptops get two stereo speakers and single white backlit keyboards. 
MSI is yet to reveal the release dates and pricing details of its latest CreatorPro series of laptops. We will provide you with updates once we get hold of any new information.