Apart from the Ryzen 7000 processor, AMD also introduced a range of motherboards based on the AM5 socket for the Ryzen 7000 series at Computex 2022. The premium MEG X670E Ace, the mid-range MPG X670E Carbon WIFI, and the heavy-duty Pro X670-P WIFI motherboards have all been announced thus far. The Ryzen 7000 series processors will be available this fall, but motherboard manufacturers have already begun to offer compatible boards.
MSI was one of the first vendors to release new AM5 boards, with the company revealing limited details on two from its flagship MEG series, one from its gaming-focused MPG family, and one from its budget Pro series.
MSI X670E Godlike Specifications
The MSI X670E Godlike will be the company's flagship AM5 board for Ryzen 7000 processors, according to the minimal details supplied by MSI. This board will have a big E-ATX PCB, a front panel USB 3.2 G2x2 Type-C header, and 60W power delivery support. The MEG series of boards, according to MSI, will include 26-phase power delivery, 105A smart power stages, and a stacked fin array heatsink to aid cooling.
Subscribe to Onsitego
Get the latest technology news, reviews, and opinions on tech products right into your inbox
All MEG series motherboards in the highest tier will come with a massive metal backplate with up to four M.2 slots onboard and an M.2 Xpander-Z Gen5 dual add-on card that can support two PCIe 5.0 M.2 SSDs. It's unclear whether these functions will be available on non-AM5 boards.
MSI MPG X670E Carbon WIFI Specifications
The MSI MPG X670E Carbon WIFI, like the other MEG boards, has little information available in the public domain. The board will be carbon black and have two full-length PCIe 5.0 slots. The X670E Carbon WIFI will come with four PCIe 5.0 M.2 slots and will be powered by a 20-phase power supply with 90A power stages.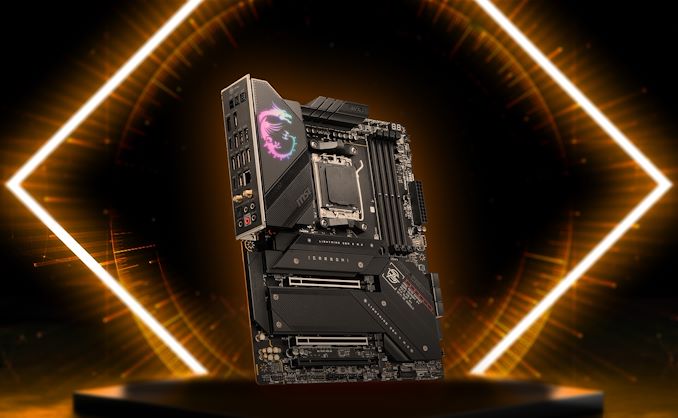 MSI X670-P WIFI Specifications
The MSI X670-P WIFI motherboard is part of MSI's Pro series, which is geared at power users in corporate environments or individual buyers seeking professional-grade technology. According to MSI, the X670-P WIFI motherboard will include 16-phase power delivery, a single PCIe 5.0 M.2 slot, and 2.5GbE/Wi-Fi 6E networking.