At WWDC 2022, Apple previewed watchOS 9, which brings a host of new features and enhanced experiences to Apple Watch users. The new version of watchOS will have more watch faces, an updated Workout app with advanced metrics, views, training experiences, and a new Medications app for users to conveniently track their medications.
watchOS 9 will be rolled out this fall as a free software update for the Apple Watch Series 4 or later paired with iPhone 8 or later and iPhone SE (second generation) or later, running iOS 16.
watchOS 9 Update: List Of New Features
Watch Faces for everyone
watchOS 9 introduces four new watch faces—Lunar, Playtime, Metropolitan, and Astronomy. It adds enhanced and modernised complications on some of the most classic watch faces, such as Utility, Simple, and Activity Analogue, along with background colour editing for Modular, Modular Compact, and X-Large for additional personalisation.
Subscribe to Onsitego
Get the latest technology news, reviews, and opinions on tech products right into your inbox
Furthermore, Focus now allows users to select an Apple Watch face to automatically appear when they start a specific Focus on iPhone, such as the Photos face during a Personal Focus, helping users stay in the moment.
Workout App updates
The Workout app has been updated to provide richer metrics for measuring performance, as well as new training experiences to help users reach fitness goals. In watchOS 9, the Workout app introduces Custom Workouts, which can be used to create a structured workout that can include both work and rest intervals. New alerts, including pace, power, heart rate, and cadence, can be added to guide users throughout the workout.
Also Read: iOS 16 Brings Dictation Upgrade, Makes Typing Texts Easier And Faster
More Ground Running Metrics
watchOS 9 brings more data and features to help track how efficiently users run. New running form metrics, including Stride Length, Ground Contact Time, and Vertical Oscillation, can all be added as metrics on Workout Views. Users can also choose to race against their best or last result on frequently used routes, and receive alerts during the workout for being ahead or behind their pace, as well as when going off route.
Swimming Enhancements
Pool Swim workouts get Kickboard detection as a new stroke type. It uses sensor fusion on Apple Watch to automatically detect when users are swimming with a Kickboard and classify the stroke type in the workout summary alongside the distance swum. Swimmers will also be able to track their efficiency with a SWOLF score—a stroke count combined with the time, in seconds, it takes to swim one length of the pool.
Apple Fitness+ Workouts
With watchOS 9, Fitness+ workouts now display on-screen guidance in addition to trainer coaching to help users get the most out of workouts, including Intensity for HIIT, Cycling, Rowing, and Treadmill. It also includes Strokes per Minute (SPM) for Rowing, Revolutions per Minute (RPM) for Cycling, and Incline for walkers and runners in Treadmill. Fitness+ subscribers without Apple TV can now use AirPlay to stream workouts and meditations with on-screen metrics to compatible third-party TVs and devices, allowing them to train anywhere, anytime.
Sleep Insights
Sleep tracking in watchOS 9 provides even more insights with the introduction of sleep stages. Using signals from the accelerometer and heart rate sensor, Apple Watch can detect when users are in REM, Core, or Deep sleep. Users will see sleep stage data on Apple Watch in the Sleep app and can view more detailed information, like time asleep, alongside additional metrics, like heart rate and respiratory rate, in sleep comparison charts in the Health app on iPhone.
First-Of-Its-Kind AFib History
With watchOS 9, users who are diagnosed with AFib (atrial fibrillation) can turn on the FDA-cleared AFib History feature and access important information, including an estimate of how frequently a user's heart rhythm shows signs of AFib, providing deeper insights into their condition. Users will also receive weekly notifications to understand frequency and view a detailed history in the Health app, including lifestyle factors that may influence AFib, like sleep, alcohol consumption, and exercise.
AFib is one of the leading conditions that can result in stroke, if left untreated. Users can download a PDF with a detailed history of their AFib and lifestyle factors, which can be easily shared with doctors and care providers for more informed conversations.
Medications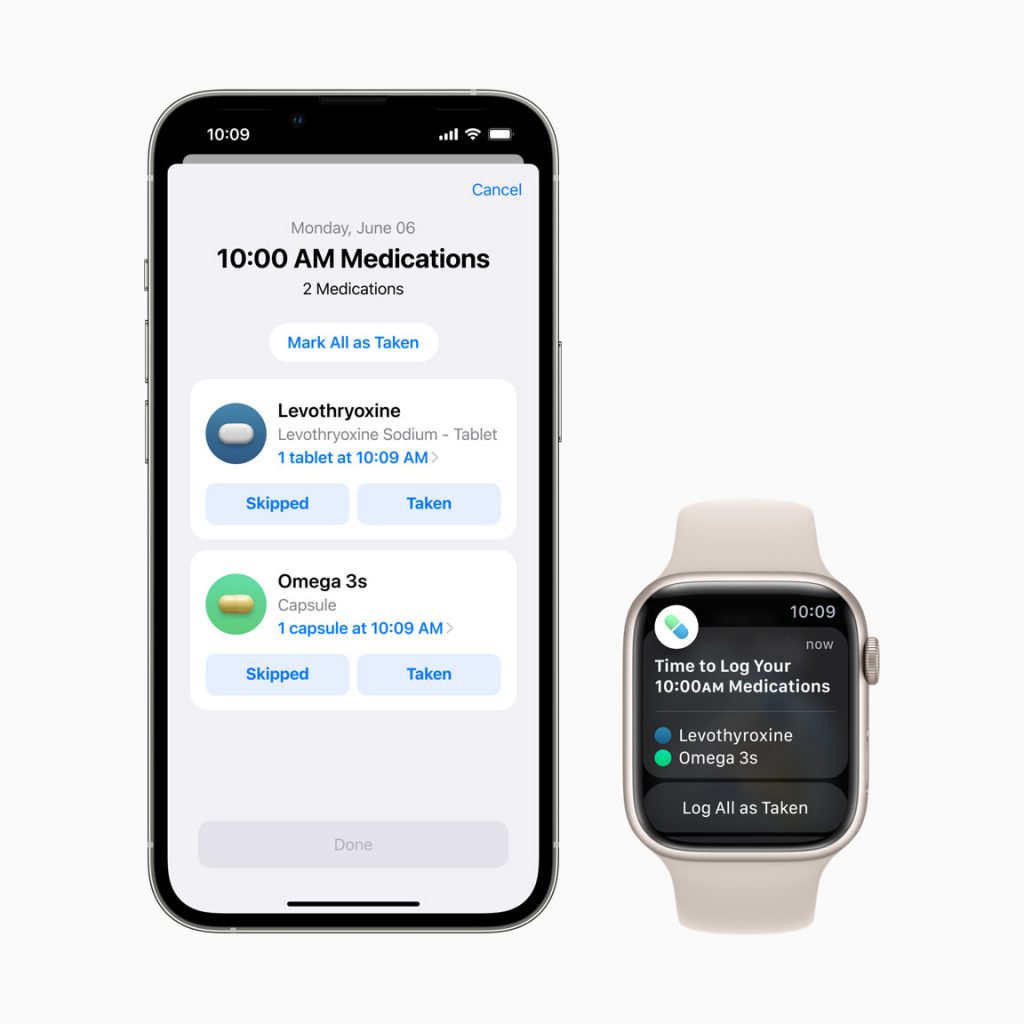 watchOS 9 brings a new Medications experience on Apple Watch and iPhone to help users manage and track their medications, vitamins, and supplements, allowing them to create a medications list, set up schedules and reminders, and view information on their medications in the Health app.
Furthermore, Custom schedules can be created for each medication, whether it needs to be taken multiple times a day, once a week, or as needed, and users can set up reminders to help keep them on track.
Privacy
When a user's iPhone is locked with a passcode, Touch ID, or Face ID, all of their health and fitness data in the Health app, other than Medical ID, is encrypted. Any Health data backed up to iCloud is encrypted both in transit and on Apple servers.
What are your thoughts on the newly introduced features with the latest watchOS 9 update? Do let us know in the comments section below.