Are you looking for the best webcams that you can buy in India? You've then come to the right place. The COVID-19 pandemic has forced most of us to carry out our work and studies from the confines of our homes. It means that we have to interact with colleagues and attend meetings or classes online, mostly through video calls through services like Google Meet, Microsoft Teams, Skype, Zoom, and even WhatsApp. As a result, webcams have become a very important piece of gadget for anyone who is working from home.
If you are in the market for a webcam, you might have noticed that there are a ton of options to choose from, which makes selecting the best one a hectic task. Well, we want to make this process easier for you. Below, we have listed the best webcams in India ranging from entry-level to high-end price segments.
Best Webcams In India: Google Meet, Microsoft Teams, Zoom Calls
We have sorted the list of best webcams you can buy in India in ascending order as per their pricing. The Logitech C270 HD is the best affordable webcam if you don't attend video calls very often. It offers decent HD video quality and it is priced extremely well. A notch higher, the Logitech C615 offers autofocus and Full HD video resolution at 30fps for sharper and clearer images. If you want butter-smooth videos at Full HD resolution, you should have a look at the ASUS ROG Eye. The Razer Kiyo uses a bigger sensor for clearer videos and it has a built-in LED ring light so video calls will be clearer even in low-lit rooms. The best of the best in the webcams category is the Logitech Brio. It can capture 4K 30fps videos and offers a wide dynamic range as well as autofocus for ultra-sharp video quality. It even features an IR camera for Windows Hello authentication on laptops and PCs running Windows 10 or a newer operating system.
1. Logitech C270 HD – ₹1,885
Subscribe to Onsitego
Get the latest technology news, reviews, and opinions on tech products right into your inbox
The Logitech C270 HD is one of the most affordable webcams in the market with a price tag of just INR 1,885. However, don't judge this webcam by its price. The Logitech C270 HD punches above its price segment and offers a video quality that is better than that of some webcams which cost almost ₹3,000.
The Logitech C270 HD, as its name suggests, can record HD (1,280 x 720 pixels) videos at 30 frames per second, which is adequate for day-to-day video calls. However, not everything depends on video resolution. Certain aspects of a video, such as the details, colours, and brightness also matter. Well, you'll be glad to know that the Logitech C270 HD won't disappoint here. It records pretty-detailed videos along with decent colours and brightness. You can't expect more from a webcam that costs this less.
Plus, it has got a noise-reducing microphone. It cancels the background noise and offers clear audio in video calls. There is also HD Light Correction on board. It intelligently adjusts the brightness of the video according to the lighting conditions around you. So, even if you are making a video call from a room that is not very well lit, the Logitech C270 HD will compensate for the low-light condition to offer a bright video. Since this is a Logitech product, you don't have to worry about drivers or after-sales service either.
2. Logitech C615 – ₹3,795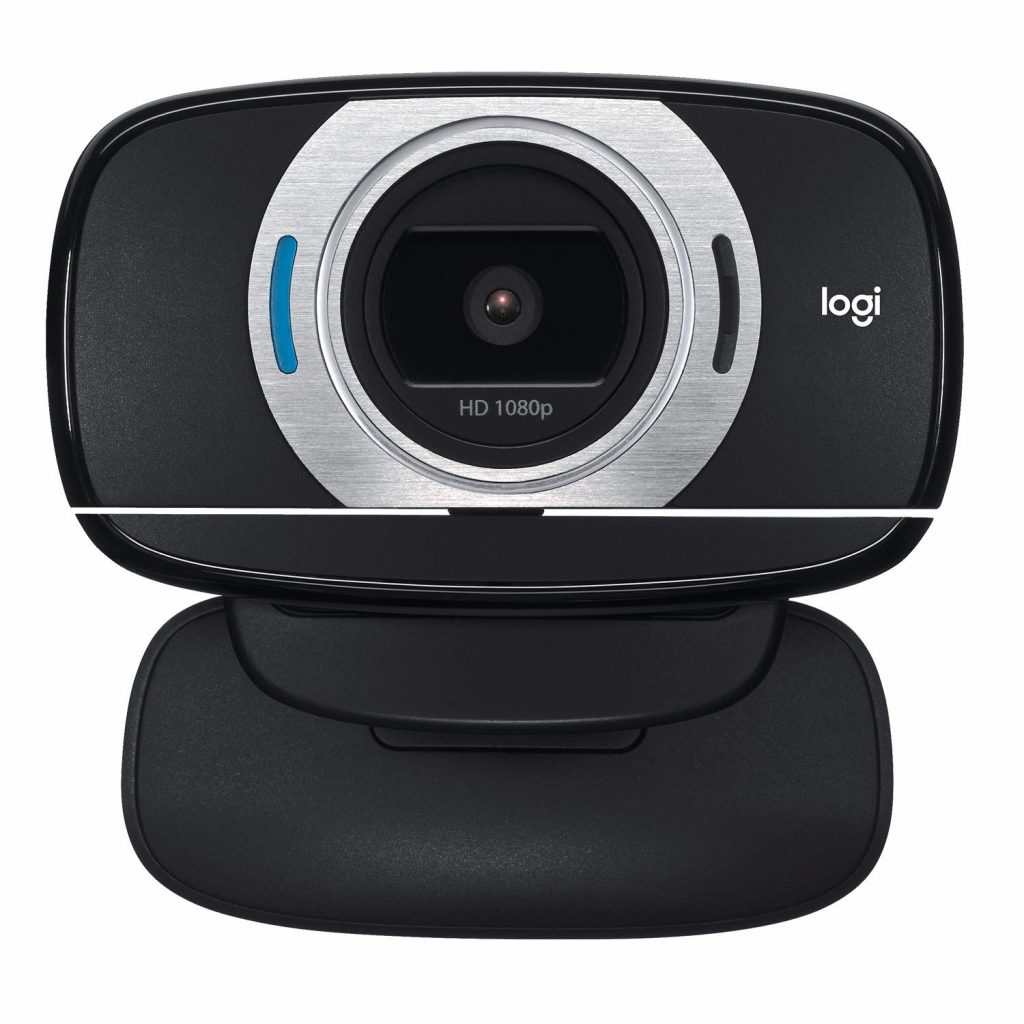 If you can extend your budget a little bit then you can get the Logitech C615, at ₹3,795. It is a significant step up from the Logitech C270 HD. For starters, it offers Full HD (1,920 x 1,080 pixels) video recording as opposed to the HD videos that you get with the Logitech C270 HD.
The higher resolution video will offer significantly more details, making the video look clearer. That, however, isn't the only major upgrade. The Logitech C615 also has the autofocus feature, which means that no matter the distance between you and the camera, you will always be in focus. This feature is a must if you attend video calls from different places on a regular basis.
As you might expect, you get all the software features with that Logitech C615 that the Logitech C270 HD offers, such as the HD Light Correction and noise-reduction microphone. With the Logitech C615 on your side, you can rest assured that other people in the video call will be able to see and hear you clearly.
3. ASUS ROG Eye – ₹9,299
The Asus ROG Eye is one of the most affordable webcams in the Indian market for gaming streamers. It comes with a price tag of ₹9,299 and offers plenty of features. For starters, the Asus ROG Eye can record Full HD videos at 60 frames per second, which is essential if you want your videos to look smooth.
Then there are two beamforming microphones that do a great job at offering clear audio even in the noisiest environments. You also get a wide dynamic range (WDR) and auto face exposure features that automatically adjust the lighting on the go for the best possible video quality.
Considering that gamers are always on the move, Asus has offered the ROG Eye with a detachable cable and has designed the webcam in such a way that it can be easily folded and slipped into the pocket for you to carry it around without any hassle.
4. Razer Kiyo – ₹11,700
If you are someone who needs their videos to look more professional, the Razer Kiyo is the most affordable option for you. With a price tag of ₹11,700, the main highlight of this webcam is that it has a ring-shaped adjustable LED light around the camera sensor. It illuminates your face as no other webcam can. The illumination on your face makes your video look much more professional compared to what you get with other webcams.
The Razer Kiyo is not just about offering good illumination to the user. It also offers videos that have a great amount of detail and excellent colours, which is something that you need for streaming videos on platforms like YouTube and Twitch. Needless to say, it has got the autofocus feature so that you are in focus all the time, doesn't matter if you are near or far from the webcam. Additionally, it has a tripod mount for you to use with any tripod.
5. Logitech Brio – ₹17,999
If you want the ultimate webcam that money can buy, the Logitech Brio is the one for you. With a price tag of ₹17,999, the Logitech Brio is one of the costliest webcams out there. Fortunately, it has got everything that you'd want from a webcam and more. For starters, it can record videos at 4K resolution at 30 frames per second, something that only a handful of webcams are capable of. These 4K videos have an excellent amount of detail along with great colours and brightness. Simply put, the Logitech Brio has the best video quality among all the webcams in the market.
That, however, is just one aspect of the Logitech Brio. Another highlight feature of this webcam is that it has an infrared camera that works with Windows Hello. It means that every time you switch on your computer, the Logitech Brio can recognise your face and unlock the PC for you. Isn't that convenient? That is not all though. You also get two microphones for a stereo audio recording option. Then there is a detachable USB Type-C cable so that you can use store it easily and set it up in no time.