Today, we are bringing you our POCO M4 5G review. It is an entry-level Android smartphone, starting at ₹11,999 and going up to ₹13,999. Most smartphones from POCO come with attractive specifications for their price, and the POCO M4 5G is no different.
It packs some amazing features for its price tag. The phone has a 90Hz display, a 50MP rear camera, MediaTek Dimensity 700 SoC, 5G connectivity, a 5,000mAh battery, and an IP52 rating. We have been using the 6GB RAM + 128GB storage variant of the device for over a week now, and this is what we think about it.
POCO M4 5G Specifications, Price, Availability
Display: 6.58-inch IPS LCD, 2,400 x 1,080 pixels resolution, 90Hz refresh rate, 240Hz touch-sampling rate, 70% NTSC colour gamut coverage, Corning Gorilla Glass 3
Processor: MediaTek Dimensity 700 (fabrication process: 7nm; CPU: 4 x Cortex-A76 clocked at 2.2GHz, 4x Cortex-A55 clocked at 2GHz; GPU: Mali-G57 MC2 GPU)
RAM & storage: 4GB RAM + 64GB storage, 6GB RAM + 128GB storage (user available storage: 45.1GB in 64GB variant, 106.9GB in 128GB variant); dedicated microSD card slot
OS: Android 12 with MIUI 13 customisation
Front camera: 8MP (fixed focus, F2.45 aperture, 1.0μm pixel size, 1080p@30fps video recording)
Rear camera:

Main:

50MP (F1.8 aperture, 0.7μm pixel size, LED flash, 1080p@30fps video recording);

Depth Sensor:

2MP
Battery: 5,000mAh, 18W charging speed, 22.5W bundled charger, 108 minutes charging time (claimed)
Connectivity: Dual-SIM, 5G (7 bands), dual-band Wi-Fi ac, Bluetooth v5.2, GPS, GLONASS, BeiDou, IR blaster, 3.5mm audio jack, USB 2.0 Type-C port
Sensors: Ambient light sensor, proximity sensor, accelerometer, gyroscope, compass
Security: Side-mounted fingerprint scanner
Audio: Single speaker, single microphone, Hi-Res Audio certified for 3.5mm audio jack
Build: Dimensions: 163.99mm x 76.09mm x 8.9mm; Weight: 200 grams; Materials: Plastic frame and back panel; Rigidity/certifications: IP52 rated for water and dust protection
Colours: POCO Yellow, Cool Blue, Power Black
Package contents: POCO M4 5G, 22.5W charger with USB Type-A port, 1 meter USB 2.0 Type-A to USB 2.0 Type-C cable, pre-applied plastic screen protector, transparent protective mobile phone case, SIM ejector tool, user guide and warranty card
Price: ₹11,999 for 4GB RAM + 64GB storage, ₹13,999 for 6GB RAM + 128GB storage
Availability: Flipkart
Design & Build Quality
Smartphones from POCO have always had a distinctive look. The POCO M4 5G follows the same path. We received the POCO Yellow colour variant for the review and it looks stellar. The bright yellow colour is eye-catching. Then there's the glossy black strip on the back panel running across the entire length of the device, giving it a symmetrical look, which I am a fan of. That and the funky colour make the phone stand out in the crowd. However, the black glossy strip is prone to scratches and fingerprints.
Subscribe to Onsitego
Get the latest technology news, reviews, and opinions on tech products right into your inbox
Like most other entry-level smartphones, the POCO M4 5G has a plastic body and a plastic back panel. However, the phone, by no means feels cheap to hold. In fact, it feels more like a mid-range smartphone in hand. It is well built and gives a premium feel when you hold it. I tried to flex the device but it neither flexed nor did it make any creaky sounds. The ergonomics of the device are also spot on. The power and volume buttons are placed at the right height and offer tactile feedback.
Display
The POCO M4 5G has a 6.58-inch display. The screen size is in line with what you get with most smartphones nowadays. What stands out though, is the resolution of the display. While most entry-level phones have a screen with an HD+ resolution, the display of the POCO M4 5G gets Full HD+ resolution. The jump from HD+ to Full HD+ resolution makes a lot of improvement. Unlike HD+ screens, Full HD+ displays don't look pixelated and offer impressive sharpness. POCO usually focuses on things that matter and I am glad that it did in this case too.
The screen uses IPS LCD technology, which is pretty standard in this price range. Being an IPS unit, the display offers good viewing angles. One of the weakest points of entry-level LCDs is low brightness levels, and it shows in the POCO M4 5G. While the brightness of the display is good enough for indoor usage, the screen looks dim under direct sunlight. You will find yourself closely looking at the display to read content on it in brighter environments. Even though this is a budget smartphone, I expect a slightly brighter display.
The automatic brightness only makes the matter worse. The phone lowers the brightness of the screen even when the lighting is constant, and sometimes, the brightness doesn't increase when you step out in sun. As a result, you will find yourself adjusting brightness manually quite often. That being said, it can be fixed with a software update.
The colour reproduction of the display is far from accurate and generally, the colours look slightly washed out. However, we don't expect anything better from a smartphone in this price range.
Despite low brightness and glitchy automatic brightness control, the display's performance is satisfactory for the price. The credit goes to Full HD+ resolution, 90Hz refresh rate, and Corning Gorilla Glass 3 protection.
What stands out about this display is that it gets a 90Hz refresh rate. Not many smartphones in this price range have a 90Hz screen. If they do, they have some serious shortcomings on other fronts (such as resolution). The POCO M4 5G offers a 90Hz refresh rate without compromising on other aspects of the hardware. The 90Hz refresh rate makes navigating through the interface and playing games feel smoother and more responsive than a display with a lower refresh rate. Fortunately, the high refresh rate also works in games, unlike a few phones from Realme, where the high refresh rate only works in the UI.
The display has Corning Gorilla Glass 3 protection. While we do not perform any scientific test to evaluate the screen's strength, the phone did fall accidentally during the review period, giving us an idea about its durability.
While capturing product images, the phone fell on its face on a concrete slab due to strong winds. The screen did get a few scratches, but fortunately, the display did not crack.
Camera
The POCO M4 5G has a 50MP primary camera at the rear, which is fantastic for the price segment. It is accompanied by a 2MP depth sensor. For selfies, you get an 8MP camera.
The most annoying thing about the whole camera experience on the POCO M4 5G is its HDR mode. The camera starts with HDR mode turned off by default. Even if you turn it on, you'll find the HDR mode turned off the next time you open the camera app. Considering that HDR makes a huge difference in photos, having it turned off means you are losing out on potential image quality. I don't know if POCO did this intentionally or if it is a bug but it is bad. POCO should fix this soon.
The image quality from the rear camera of the POCO M4 5G is class-leading. In daylight, the 50MP sensor captures bright and detailed images with close to real-life colours. While the dynamic range is not great, it is wide enough for a budget smartphone. The only issue I found is that the edges of the images look blurred. However, it isn't very concerning and gets a pass given the price of the device.
The phone also manages to capture surprisingly good portrait images. The subject recognition is spot on and the background blur is gradual.
Image quality in low light conditions isn't as impressive as it is in daylight. While images look bright, the amount of detail is low. The software also tries hard to suppress the noise aggressively. Both of these factors make the image soft. This is the best you can get in a smartphone in this price range, though.
The images captured using the POCO M4 5G's front camera have decent details but the colour reproduction is bad. The colours look washed out and far from reality. Selfies taken in low-light conditions don't look as detailed as they do in the daylight. Low-light selfies also have this soft, oil painting-like look. Again, given the price point, it gets a pass.
Just like the rear camera, the front camera also manages to capture pretty good portrait selfies. The portrait images have excellent subject recognition and a linear background-blur effect. The portrait performance deteriorates in lowlight but once again, what else can you expect for the price of the device?
Performance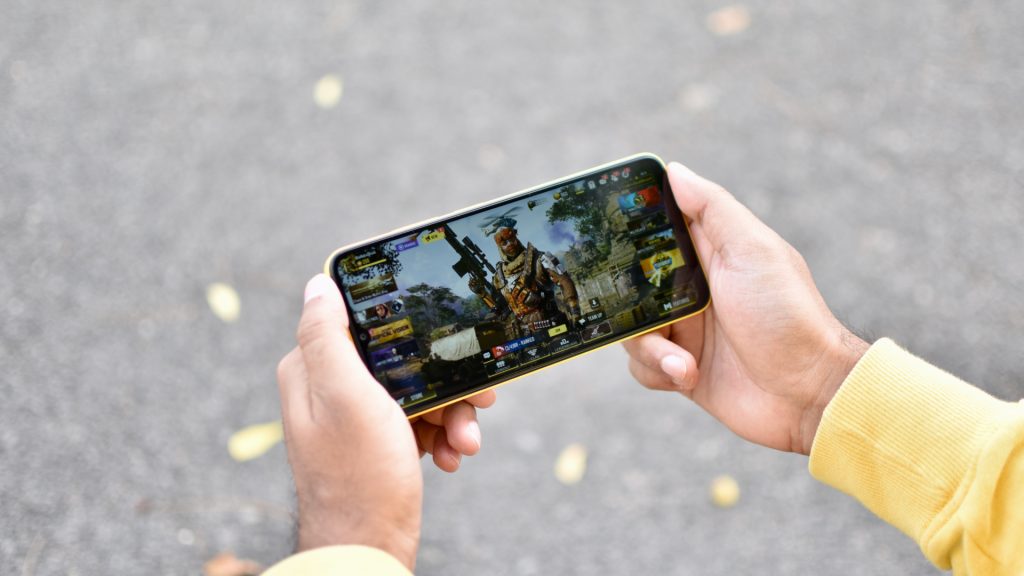 The POCO M4 5G uses the MediaTek Dimensity 700 processor, which is more powerful than what you get in most smartphones in this price range. The phone is available in two configurations: 4GB RAM + 64GB storage and 6GB RAM + 128GB storage. This is pretty standard in this segment. The one we got for the review is the variant with 6GB RAM + 128GB storage.
The performance of the POCO M4 5G certainly feels like a segment above.
Since the POCO M4 5G has a more powerful chipset than most of its competitors, it's faster and smoother than most other phones in the segment. 6GB of RAM also contributes to the fast performance while multitasking. Opening apps for the first time takes some time (which is normal for smartphones at this price point). However, once an app is opened, the phone switches between applications without any lag or stutter.
POCO has also performed an excellent job with the thermal management of the SoC. In the stress test, we saw only 2% GPU throttling and 11% CPU throttling. As a result of the powerful SoC and great thermal management, the POCO M4 5G is capable of running graphics-intensive games, such as COD Mobile and BGMI at the highest supported graphics quality (for this phone) and frame rate smoothly, even during long sessions of gaming.
Software
The POCO M4 5G comes loaded with the Android 12 operating system and MIUI 13 customisations. As soon as I finished setting up the device, I received an 86MB software update bearing the build number 13.0.2.0SLSINXM Stable. I used the phone on this firmware for the entire review period.
MIUI 13 has a better UI design and customisation compared to every other Chinese smartphone brand. It also packs plenty of features related to customizations, privacy, security, and convenience, which come in handy in day-to-day usage. The software design and features are second only to Samsung's One UI 4.0. Below are the screenshots from every stock app that comes installed with the device.
As is the case with most smartphones from Chinses brands, the POCO M4 5G also comes with a few pre-installed third-party applications that we call bloatware. These apps show advertisements and push unwanted notifications. Fortunately, they can be uninstalled.
A few stock apps also show recommended content and push unwanted notifications by default. You can turn off recommended content from all the apps but you will have to go into each app and do it separately, which is quite frustrating. You can follow our article to get rid of most of the bloatware.
The music app is integrated with Hungama music service, and each time you open the app, it asks you to agree to Hungama's Privacy Policy. I think the stock music app should not be integrated with any third-party music service. It makes the app feel cheap and cluttered.
The phone doesn't show notifications on time. When an app gets a notification, it pops up instantly on my iPhone 13 Pro. However, it takes several minutes for the same notification to pop up on the POCO M4 5G. Sometimes I didn't get the notification at all until I opened the respective app. This shows that the phone has aggressive battery-saving measures and it isn't allowing the apps to check for notifications on a timely basis. Turning on Performance Mode didn't help this issue either.
As soon as an app is installed, the package installer pops up, taking the entire real estate of your screen, to notify you about it. It causes an unnecessary interruption. This gets very irritating when apps are automatically updating in the background, which happens very frequently. There is also no option to turn off this 'feature'.
There are also plenty of issues with the connectivity of the device, which I think are related to the software. We'll discuss those problems in the connectivity section. Overall, the software has plenty of issues at the moment and it feels unoptimised. That being said, we are hopeful that POCO will solve the bugs with a software update very soon.
Connectivity
The POCO M4 5G has a serious issue with Bluetooth connectivity. The Bluetooth connection between the POCO M4 5G and the 10.25-inch infotainment unit in my Kia Sonet GTX Plus dropped every time a song changed on Apple Music. Initially, I thought that this issue could be related to my car because phones nowadays don't have such basic issues. So, I connected the POCO M4 5G to the infotainment system in Volkswagen Vento, and the phone suffered through the same issue. I gave the POCO M4 5G the benefit of the doubt once again thinking that the issue could be related to Apple Music. I then tested the Bluetooth connection using Spotify. Unfortunately, the issue still persisted.
This issue isn't just related to streaming music. It happens when you are taking calls as well. The Bluetooth connection gets disconnected as soon as you take calls on your car's music system. Can you imagine how frustrating it is when your phone gets disconnected from your car's music system right when you get a call? That's not even the worst part though.
After being disconnected three to four times consecutively, the phone restarts into recovery mode. Imagine if you give this phone to someone who doesn't have a lot of knowledge about smartphones and it restarts into recovery mode. They probably wouldn't know how to get it back to normal. God forbid if they are in some kind of emergency.
Fortunately, I didn't face any Bluetooth connectivity issues when using the phone with truly wireless stereo (TWS) earphones. So, if you are someone who does not use the phone with the car's music system, you may not need to worry. But if you do, you need to steer clear of this phone, at least till POCO offers a solution.
The issue with Bluetooth isn't the only problem with the connectivity of this smartphone though. During the review period, I found that the POCO M4 5G has issues with Wi-Fi and cellular network too. The Wi-Fi gets disconnected even when there is a strong Wi-Fi signal. As a result, the phone switches to mobile data. This causes an interruption in internet connectivity. After a random period of time, the phone automatically connects to Wi-Fi again. As for the cellular connectivity, the POCO M4 5G gets slower data speed than other smartphones or no data at all in areas with weak cellular network reception. You will also face inferior call quality in such areas compared to other smartphones in the price range.
If this is a software issue, well and good. POCO can fix it with a software update, and it should, immediately. But if this is a hardware issue, it is gonna be tough for the company to fix it.
It is also worth mentioning that the POCO M4 5G is one of the most affordable smartphones with 5G connectivity. With the 5G launch in India right around the corner, it makes more sense to buy a smartphone that supports the 5G network rather than the one that doesn't. Considering that the POCO M4 5G is one of the very few smartphones in its price segment offering 5G connectivity, it definitely has an upper hand over its competitors.
Speakers, Microphone, Fingerprint Scanner, And Sensors
The POCO M4 5G gets a single loudspeaker, which is acceptable given the device's price. The speaker has adequate volume output and sounds pretty decent too.
The phone has a single microphone. The person on the other side of the call can hear you clearly if you speak normally (at your usual volume) and if the phone is at a normal distance from your lips. However, even if you speak at a slightly lower volume or if your distance from the phone increases, the person on the other end of the call cannot hear you clearly. I haven't faced this issue on any smartphone for quite some time now.
The phone's side-mounted fingerprint scanner works flawlessly. It is fast and accurate.
All the sensors in the phone work as they should except for the proximity sensor. Sometimes the screen turns on while you are on call even when the phone is close to the ears and the screen gets pressed accidentally. So, there is a high chance that your call may get disconnected or go on mute. This happened to me quite frequently during the review period.
Battery Life & Charging
The POCO M4 5G usually lasted for about 30 hours on a single charge with 12 hours to 13 hours of screen-on time with heavy usage, which included gaming and benchmarking. That's epic. I haven't used any other phone that lasts as long as the POCO M4 5G does. Hats off to POCO for offering such amazing battery life.
The phone features 18W fast charging. While a few other budget phones in the market come with a charger that has a lower wattage than what the phone supports, the POCO M4 5G strangely comes with a 22.5W charger, even though it supports only 18W charging. I think it was more economical for POCO to ship the same charger with the POCO M4 5G that it does with its more premium phones rather than developing/importing an 18W charger specifically for this device.
Anyway, POCO claims a charging time of 108 minutes with the stock charger. However, in our test, the phone took 120 minutes to charge. Since the phone took a longer amount of time to charge from 0% to 100% than what the company claims, we thought that something went wrong in our testing. So, we emptied the battery and hooked up the phone to the charger once again, and the result was exactly the same. The phone took 121 minutes to charge this time. The extra time that the phone took to charge from what the company claims is not significant but POCO needs to look into this.
Conclusion
The POCO M4 5G has great hardware for the price. It has a good screen, fast performance, good primary camera, epic battery life, and feature-filled software. However, it is let down by unpolished software and numerous bugs. If POCO fixes all the software issues, I think it could be among the best smartphones in its price segment.
The Review
POCO M4 5G
The POCO M4 5G has great hardware for the price. It has a good screen, fast performance, good primary camera, epic battery life, and feature-filled software. However, it is let down by unpolished software and numerous bugs. If POCO fixes all the software issues, I think it could be among the best smartphones in its price segment.
PROS
Funky design and excellent build quality.
Display gets FHD+ resolution and a 90Hz refresh rate, which are great for price.
Class-leading rear camera performance in daylight.
Fast and smooth performance; great thermal management.
Epic battery life; comes bundled with fast charger.
CONS
Plenty of software issues.
Image quality from the front camera is just average.
Multiple connectivity issues.
Review Breakdown
Design

0%

Display

0%

Front Camera

0%

Rear Camera

0%

Performance

0%

Software

0%

Battery Life

0%

Connectivity

0%

Value

0%