Samsung was among the first few big-name brands to dip their toes in the true wireless stereo (TWS) earbuds segment. The company has come a long way from its first true wireless earbuds (Gear Icon X) that were launched in 2017. The Galaxy Buds+ and the Galaxy Buds Pro are among the most refined true wireless earbuds you can find in the market, especially for Android users. A couple of months ago, the company launched the Galaxy Buds 2, which are meant to replace the Galaxy Buds+. These new wireless earbuds cost the same as the Galaxy Buds+ but bring many features from the Galaxy Buds Pro, including the new design and ANC (Active Noise Cancellation), at a more affordable price. I've had a few weeks to review the Galaxy Buds 2, and here's what I think about them.
What's In The Samsung Galaxy Buds 2 Box?
Galaxy Buds 2 with wireless charging case
Three pairs of ear tips
USB Type-A To USB Type-C charging cable
Help Guide
Samsung Galaxy Buds 2 Design & Comfort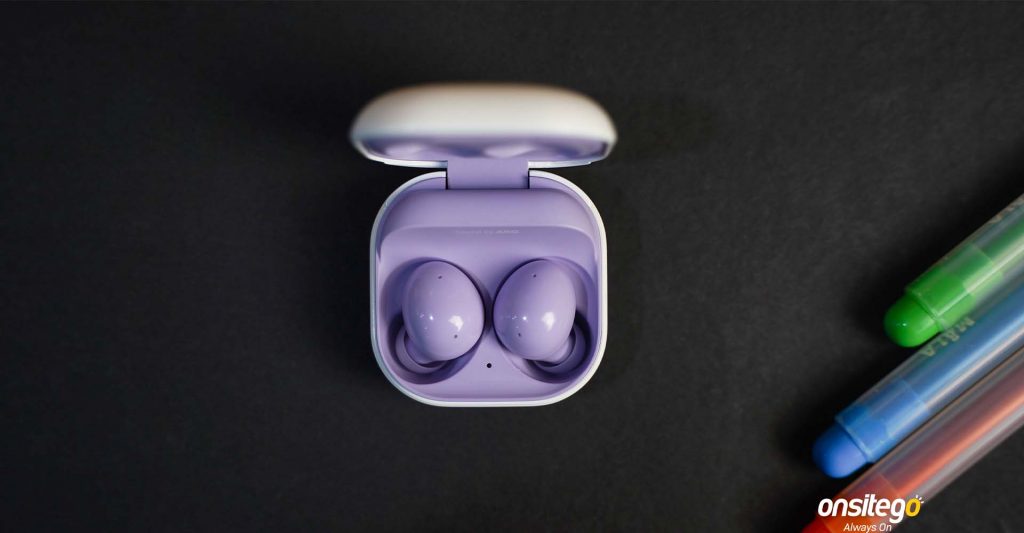 The Galaxy Buds 2 has a newer, more rounded design compared to the original Galaxy Buds and the Galaxy Buds+. Although they fit really well in my ears, the Galaxy Buds+ offered me the best fit yet because of the additional ear fins. The overall design of the Galaxy Buds 2 is extremely similar to the Galaxy Buds Pro, which means they are compact, lightweight, and effortless to carry around. The charging case is among the cutest and most compact TWS cases I have ever used, and it fits in the jeans coin pocket effortlessly.
The earbuds have a matte finish, which means you don't have to deal with fingerprints. They have a touch-sensitive area to control music playback, ANC modes, and adjust the volume. Single tap to play/pause music, double-tap to skip the track, and triple-tap to go back to the previous track. You can touch and hold to cycle through ANC On, Ambient Mode, and ANC Off modes. You can also activate the optional controls of touching the edges of the earbuds to increase or decrease the volume level. You can also customise touch controls via the Galaxy Wearable app on any Android smartphone (running Android 5.0 or newer OS).
Subscribe to Onsitego
Get the latest technology news, reviews, and opinions on tech products right into your inbox
Overall, the Galaxy Buds 2 design is compact and comfortable, and most people won't have any real issues with the fit. The build quality is excellent, too. I didn't notice any weird creaks or squeaks. There are multiple colour variants to choose from, which is an added plus. Plus, the case has a USB Type-C port and charging status LEDs (one on the outside and one inside the case).
Samsung Galaxy Buds 2 Audio Quality & Wireless Connection Performance
Samsung's new wireless earbuds continue to use the dual-driver setup seen in the Galaxy Buds+ and the Galaxy Buds Pro. They even feature a Bluetooth 5.2 chip that claims to offer a stronger and more reliable connection over Bluetooth 5.0. The earbuds managed to stay connected to my Galaxy S21 Ultra even when I was 25 feet away from the smartphone, with a wall between us. Cheaper earbuds started to lose the wireless connection at a relatively shorter distance.
Coming to the most important part of the review, I am glad to say that the Galaxy Buds 2 sound enjoyable. They have a bit more bass than I would like (l like analytical earbuds), but I am an audiophile, and most people would enjoy slightly accentuated lower-end audio frequencies on these earphones. The vocals are clear and don't sound overprocessed. The highs are decent, too, but they could've been sharper, at least with the default equaliser setting. To me, the audio sounded closer to accurate with the Clear equaliser preset on the Galaxy Wearable app. The soundstage was neither too narrow nor too wide, exactly what you would find on more TWS earphones.
In comparison, the similarly-priced OnePlus Buds Pro sounded too bass-heavy, something that some people may like. The Galaxy Buds+ sounded more neutral, while the higher-priced AirPods Pro sounded better, especially with higher frequencies.
When it comes to ANC, the Galaxy Buds 2 are really good for their price. I own the AirPods Pro, too, and they offer slightly better ANC performance. The OnePlus Buds Pro has slightly inferior ANC performance when compared to the Galaxy Buds 2. When tested in the usual office/work environment, Samsung's newest earbuds managed to remove almost all of the AC hum and general outside noise. Similarly, when I was on the flight, the Galaxy Buds 2 managed to remove most of the engine noise.
Although they work perfectly fine with both Android and iPhone, the Galaxy Buds 2 are more suitable when used with Android devices as you can use the companion Galaxy Wearable app to customise controls, audio settings, and more.
Samsung Galaxy Buds 2 Battery Life
Samsung claims that the Galaxy Buds 2 can last up to 6 hours on a single charge with ANC turned off and 5 hours with ANC turned off. The case, when fully charged, holds enough juice to offer 20 hours (22 hours with ANC turned off) of additional battery life when ANC is used. In my usage, the Galaxy Buds 2 lasted anywhere between 4-5 hours with ANC turned on. While these are perfectly acceptable figures, they are nowhere close to the Galaxy Buds+, which could easily last 9-10 hours on a single charge. However, this shouldn't be a problem for anyone who doesn't listen to more than 5 hours of audio playback in a single day.
I usually set the volume to 70-80% and used the earbuds for 2-3 hours every day. The earbuds lasted an entire week with a full charge, which should be similar to how most people use their earphones.
The charging case has a USB Type-C charging port, but it also supports Qi wireless charging. I mostly used a wireless charger to top up the Galaxy Buds 2's battery. If you have a modern high-end Android smartphone, you can even use your smartphone to charge the earbuds wirelessly.
Are Samsung Galaxy Buds 2 Worth Buying?
Yes. The Galaxy Buds 2 are among the best true wireless stereo earphones in their price segment right now. They are extremely compact and they fit really well. They sound good, too, unlike the similarly-priced OnePlus Buds Pro which are quite bass-heavy. The ANC works well in almost all situations, especially considering their size. They also offer fast pairing with Google Fast Pair and Windows Swift Pair-compatible devices. Battery life is average, but at least it has a USB Type-C port and is compatible with Qi wireless charging.
So, where do they fall short? Samsung could've improved the water resistance to at least IPX4. Moreover, the South Korean firm could've implemented a manual equaliser setting within the Galaxy Wearable app. They also lack support for aptX, LDAC, or LHDC (used in OnePlus Buds Pro). The battery life could've been slightly longer too, but this feedback is coming from a Galaxy Buds+ user, which is one of the longest-lasting wireless earbuds (on a single charge).
I would recommend the Galaxy Buds 2 over the Google Pixel Buds A Series, OnePlus Buds Pro and the Jabra Elite 75T due to their incredibly small size, great fit, pleasing sound, and customisations via the app. The OPPO Enco X sound slightly better but have shorter battery life. For iPhone users, the AirPods Pro are clearly better, but at a considerably higher price. iPhone users can also have a look at the Beats Studio Buds and the Beats Fit Pro.
Samsung Galaxy Buds 2 Review: Pros & Cons
| Pros | Cons |
| --- | --- |
| Extremely compact and lightweight | Battery life is not as good as Galaxy Buds+ |
| Fit perfectly in ears | No manual equaliser settings |
| Good audio quality | No support for aptX or LDAC. |
| Strong ANC performance | |
| Google Fast Pair and Windows Swift Pair | |
| USB Type-C and Qi wireless charging | |
Samsung Galaxy Buds 2 Review Ratings
Asif Iqbal Shaik
Asif is Onsitego's Editor-in-Chief and he takes care of all the content on the website. He has been following the consumer electronics industry for more than a decade. Asif has reviewed hundreds of products, including computers, headphones, laptops, smart home products, PC components, smartphones, tablets, and a lot more over the past ten years. He has also headed the teams at MySmartPrice and TelecomTalk in the past. He also contributed to various international websites, including SamMobile.
Related posts