WhatsApp has rolled out a new "Message Yourself" feature, which allows users to send notes, reminders, and updates to themselves. According to the company, the new update will help users to keep track of their to-dos, send themselves notes, reminders, shopping lists and so on the chatting platform. The "Message Yourself" feature on WhatsApp was in beta testing last month and will finally be made available to all the users over the coming weeks.
How To Use the WhatsApp "Message Yourself" Feature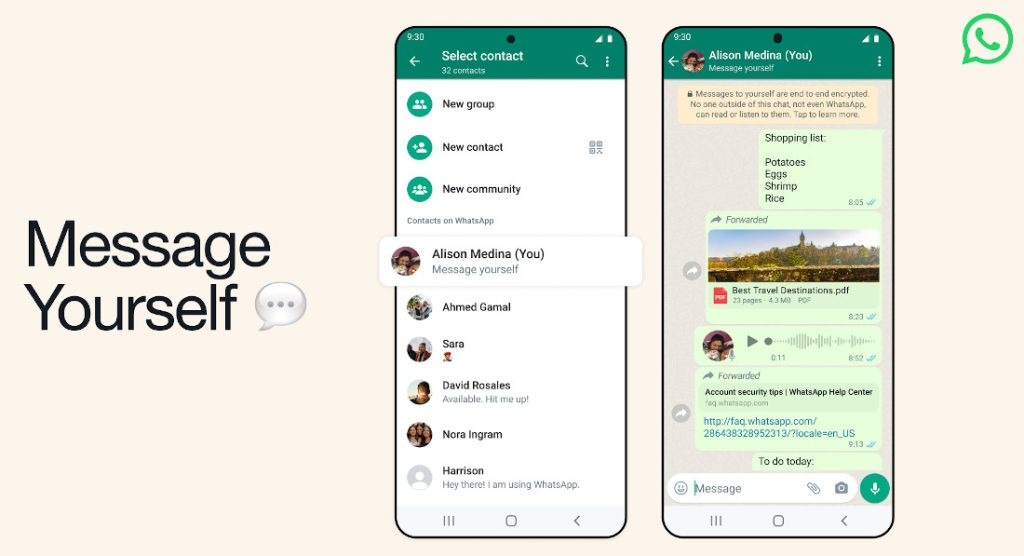 To use the newly rolled out Message Yourself feature on WhatsApp, follow the below-mentioned steps:
Open your WhatsApp
Create new chat
You will be able to see your contact at the top of the list
Click on your number and Start Messaging.
Also Read: WhatsApp Could Be Coming To Tablets Soon, Spotted In Testing In Latest Beta Version
Subscribe to Onsitego
Get the latest technology news, reviews, and opinions on tech products right into your inbox
After receiving the latest WhatsApp update, you will notice that the app uses a separate caption to highlight the message using your phone number. Users might also get to experience a better synchronization of messages within the chat with their own phone numbers. Furthermore, the new addition comes with a multi-device support. Hence, if you send a message to the chat with your phone number, it will always be synced with your other linked devices.
As for the availability, the "Message Yourself" feature is currently being released for Android and iOS platforms. It will be rolled out to all users in the coming weeks. Meanwhile, the messaging behemoth is also working on other feature including editing messages, Voice status update, WhatsApp Chat, and more.
What are your thoughts on the new "Message Yourself" feature being rolled out to WhatsApp users? Do let us know in the comments section below.