Users who often make subscription-based purchases through Google Play will now be able to pay via UPI Autopay. Google has finally announced that the payment mode will be available as an option on the Google Play Store in India. The method will reportedly boost mobile payments on the platform and help customers download useful apps as and when required.
For the unaware, UPI Autopay was introduced by National Payments Corporation of India (NPCI) to allow customers to make recurring payments using any UPI applicarion that supports the capability. The method is now added to the Google Play Store to enable users to conveniently manage their subscriptions.
Google Play UPI Autopay: Here's How It Works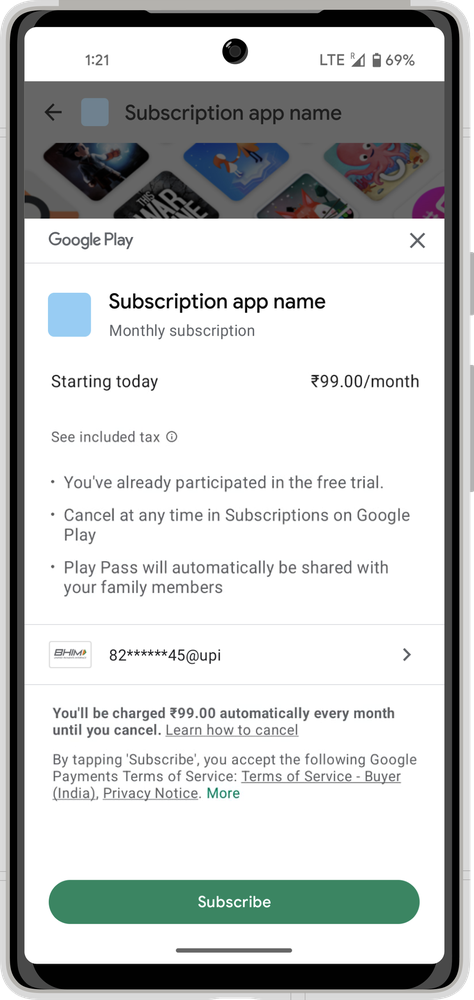 Google Play Store got UPI as a payment option back in 2019 in India. NPCI later introduced UPI Autopay as part of UPI 2.0 to allow customers to make repetitive payments across different apps that support UPI. Google Play customers in India can now use the payment method to manage their subscriptions.
Subscribe to Onsitego
Get the latest technology news, reviews, and opinions on tech products right into your inbox
Also Read: Google Play Redesign For Foldable Phones, Tablets Rolling Out Soon With Richer Home Page
With the latest launch, Google Play now supports over 300 local payment options in over 60 countries. To make a payment using the newly introduced UPI Autopay mode users must follow the steps mentioned below:
Pick a subscription plan to purchase
Click on the "mode of payment" in the checkout section
Select "Pay with UPI"
Approve the transaction in the registered UPI app.
Speaking on the launch, Saurabh Agarwal, Head of Google Play Retail & Payments Activation – India, Vietnam, Australia & New Zealand, said,
We are always looking at adding popular and effective forms of payment around the world to ensure people can pay for apps and in-app content conveniently. With the introduction of UPI Autopay on the platform, we aim to extend the convenience of UPI to subscription-based purchases, helping many more people access helpful and delightful services – while enabling local developers to grow their subscription-based businesses on Google Play.
What are your thoughts on UPI Autopay support for Google Play in India? Do let us know in the comments section below.