Realme launched a new smartwatch, the Realme TechLife Watch R100, in India this week. With a price tag of just ₹3,999, it is one of the most affordable smartwatches in the country from a well-known brand. The Realme TechLife Watch R100 offers an excellent set of features for its price, including a 1.32-inch colour touchscreen with 360 x 360 pixels resolution, heart rate sensor, SpO2 sensor, Bluetooth 5.2, a speaker and a microphone for taking calls, IP68 certification for dust and water resistance, and 7-day battery life. 
Going by its price and specifications, it makes total sense to buy the Realme TechLife Watch R100 rather than a traditional watch, isn't it? But does it perform as good as it looks on paper? Well, that is what we are set to find out today in this Realme TechLife Watch R100 review.
Realme TechLife Watch R100 Specifications, Price, Availability
Display: Size: 1.32-inch; Technology: LCD touchscreen; Resolution: 360 x 360 pixels; Brightness: 450 nits (claimed)
Processor: No information revealed by the company
RAM & storage: No information revealed by the company
OS: No information revealed by the company
Connectivity: Wireless: Bluetooth v5.2; Wired: Proprietary charging connection
Compatibility: Platforms: iOS 9.0 and newer, Android 6.0 and newer; Companion app: Realme Wear
Battery: Size: 380mAh, Battery life: Up to 7 days (claimed); Charging time: 2 hours (claimed)
Build: Materials: Plastic housing, silicone strap; Watch dial dimensions: 54.1x46x12.2mm; Strap dimensions: 22mm width, length adjustable from 140mm to 220mm; Certifications/ratings: IP68 water and dust resistance
Colours: Black, Grey
Price: ₹3,999 (On 27/06/2022)
Availability: Realme Online Store
Realme TechLife Watch R100 Review: Build Quality
The Realme TechLife Watch R100 has a circular dial, like most other non-Apple smartwatches. Its case is made using plastic, and it certainly feels that way when you hold it, giving away the fact that it is an entry-level smartwatch. That being said, the materials that have been used don't feel cheap or of low-quality by any means. The watch just doesn't feel premium, that's all.
Subscribe to Onsitego
Get the latest technology news, reviews, and opinions on tech products right into your inbox
The Realme TechLife Watch R100 has been engineered very well. All the components are well put together. None of the parts wobbles or makes any unwanted sound. There is also no uneven spacing between the different parts. All in all, everything feels polished. That in itself is a great achievement for a smartwatch at this price.
The silicone strap that comes with the watch feels very smooth to touch and is very flexible. The watch feels very comfortable on the wrist. The strap also has a wide range of adjustments, wider than that of the Apple Watch Series 7 that I own, which means that it will fit very well no matter how thin or thick your wrist is.
Speaking of the watch strap, I am glad that Realme has used a standard strap mount for the TechLife Watch R100. It allows you to swap the stock strap with an aftermarket one in case you don't like the stock strap or if you want to try new styles.
Realme TechLife Watch R100 Review: Display
The 1.32-inch display is big enough to see all the vital information on a glance. It's shocking to see that one can get a smartwatch with a large colour display at the same price fitness trackers used to cost a couple of years ago.
What's even more impressive is the resolution of the screen. The Realme TechLife Watch R100, in spite of being extremely affordable, offers a 360 x 360 pixels resolution for the display. Even small icons and text looks clear and sharp.
Considering that this is an LCD unit, I thought that its brightness would be too low for outdoor usage. Realme proved me wrong, though. The display looks bright even under direct sunlight. The company claims a brightness of 450 nits, which isn't great on paper, but somehow, the brightness feels is more than adequate in real life.
The display has a couple of drawbacks, though. The black levels are very poor, and you can clearly see greyish blacks. The colour reproduction is also far from accurate, and the colours usually look washed out, which gives you a feeling that you are using an entry-level device. However, at this price, it's extremely hard to find something better.
Realme TechLife Watch R100 Review: Performance
Realme hasn't revealed any details regarding the watch's SoC. It feels very slow and it takes a lot of time to complete any task. I could clearly notice the lag between clicking on the screen and the smartwatch performing that action. The smartwatch also struggles in showing smooth animations. However, to its credit, it doesn't freeze like many other watches in the price segment. It is just slow, and that's about it. For the price, I am okay with this drawback. It takes some time to adjust to its speed and slow animations but once you do, you won't find it a glaring issue.
The Realme TechLife Watch R100 is equipped with a Bluetooth 5.2 chip. The watch connected seamlessly to my smartphone and I did not find any issue with the connectivity of the device.
How Is Its Call Quality?
One of the most useful features of the Realme TechLife Watch R100 is that it has a loudspeaker and a microphone, which allows the watch to be used for calls. It essentially acts as a Bluetooth earphone for your connected smartphone. It comes in handy in countries like India, where many people drive a two-wheeler and take calls on the go. It's more convenient than removing the phone from the pocket.
Call quality on smartwatches is something that even high-end devices struggle to get right. but the Realme TechLife Watch R100 did it with ease. I was surprised to see the smartwatch's call quality. People on both side of the call were able to hear each other properly. The only issue I found was that the volume from the speaker is too low to take calls in noisy environments. However, that's true with most smartwatches.
How Is The Fitness Tracking Accuracy?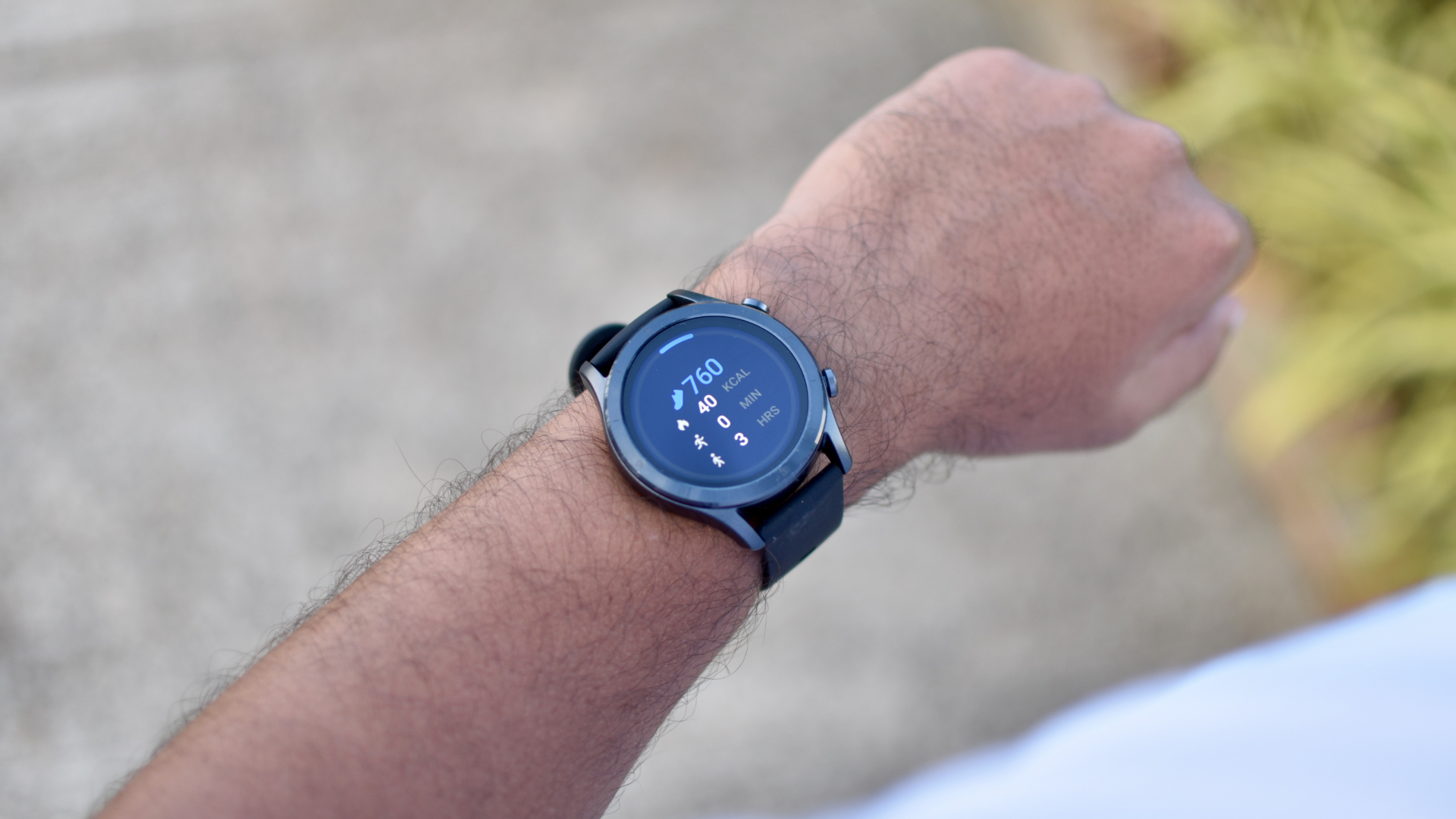 The Realme TechLife Watch R100 comes with an accelerometer, optical heart rate sensor, and SpO2 sensor. Thanks to these sensors, it can count your steps and measure your heart rate and blood oxygen levels. 
Apart from keeping a track of your vitals, the smartwatch can also track more than 100 indoor and outdoor activities. However, it lacks one feature that is crucial for tracking many fitness activities: GPS. Due to the lack of GPS, the smartwatch cannot track activities as accurately as the smartwatches that come with one.
To give you an idea, I went on an outdoor walk wearing the Realme TechLife Watch R100 and the Apple Watch Series 7. According to the Apple Watch Series 7, I travelled a distance of 3.80KM and burned 332 total kilocalories in total. According to the Realme TechLife Watch R100, I walked 3.66KM and burned 312 kilocalories.
While the smartwatch isn't very good at tracking workouts over distances, it still gives you a fair idea about your activities, and it is certainly better than not having a smartwatch at all and missing out on any kind of fitness statistics. The accuracy of heart rate and SpO2 measurement was in line with what I got from my Apple Watch Series 7.
In my opinion, the Realme TechLife Watch R100 isn't a very good option for fitness-oriented people who like to get accurate readings about their fitness activities. However, it is good enough for someone who would just like to see how many steps they walked in a day and keep a track of their heart rate and SpO2 levels.
Realme TechLife Watch R100 Review: Software
The Realme TechLife Watch R100 uses a proprietary operating system, which doesn't have a name yet. The OS has very few features and customizability options compared to a full-fledged operating system like Android Wear or watchOS.
The smartwatch comes installed with only a couple of watch faces. However, Realme has created around 100 additional watch faces for users to choose from. These watch faces are available in the Realme Wear app and can be downloaded to the smartwatch easily. However, there's only 3.9MB (3,892KB to be exact) of storage available on the smartwatch to store watch faces. Considering that each watch face is around 1MB, you can only have three to four watch faces on your smartwatch at a time. For me, this wasn't an issue because I usually keep only two to three watch faces on my smartwatch for different occasions. The low storage might be an issue for people who like to frequently change watch faces.
The smartwatch can mirror notifications from your smartphone. The Realme Wear app also allows you to customise the list of apps whose notifications should be mirrored on the smartwatch. You can access the notification panel by swiping down on the screen. It will show you a preview of each notification and you can click on the preview to read the full message. However, you cannot perform any action on a notification, which means you cannot reply to a text or delete a message directly from the notification panel (or from the smartwatch itself).
There's also a control panel which you can access by swiping down on the screen. It has toggles for basic controls like turning on and off DND mode, silent mode, torch, and the raise to wake feature. A few of the toggles in the control panel also act as shortcuts for tasks like finding your phone, going to the alarm and settings app, accessing music controls and Alexa. Of course, it also has brightness controls, too. Unfortunately, the control panel cannot be customised, which is a disappointment for people like me who want to customise the control panel to their liking.
The smartwatch also has widgets, which are located on the right side of the home screen (watch face). There are multiple widgets to choose from, such as music controls, weather, heart rate tracking, and health data. You can keep up to four widgets. To the left side of the watch face, there is a customisable feed, which you can use to see the things that matter to you the most, such as your upcoming alarm, fitness activity, blood oxygen level, and a shortcut to your favourite contact.
There is an app drawer as well, which you can access by pressing the first physical button. The watch has separate apps for all the health tracking features, such as heart rate, SpO2, sleep tracking, and exercise tracking. Then are apps for Clock, Messages, and Phone (Dialer) as well.
While the OS in the Realme TechLife Watch R100 does not have too many features or customizability options that you see in Android Wear and watchOS, it certainly has all the basic functionalities that you expect from a smartwatch. That, I think is more than what we can expect from a smartwatch that costs ₹3,999.
Realme TechLife Watch R100 Review: Battery Life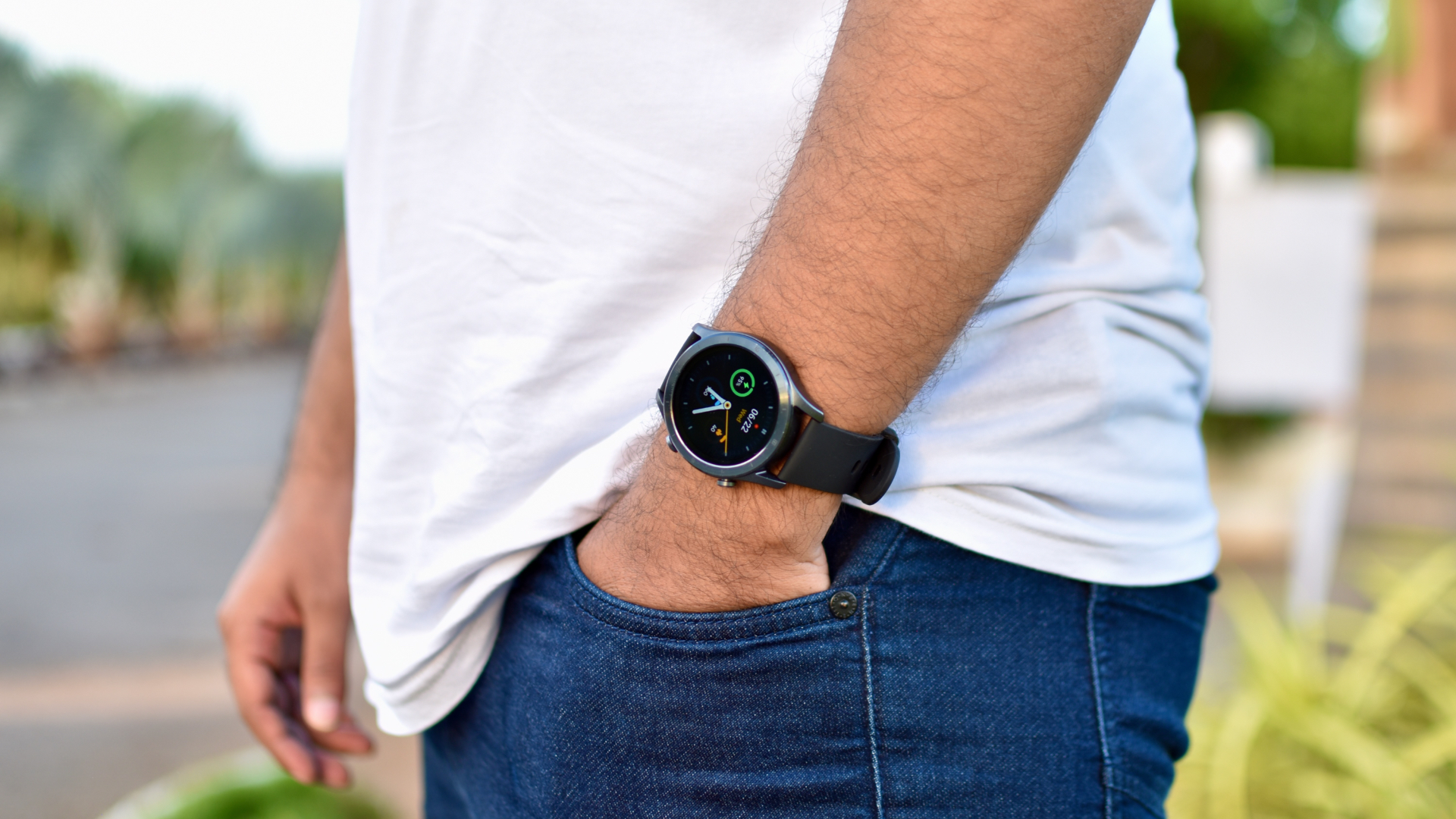 The Realme TechLife Watch R100 features a 380mAh battery, which is quite large given the price of the device. The smartwatch offered me a battery life of around five days on a single charge. During this period, I used the smartwatch heavily, which included setting up the device and going through each and every option to explore all the features. I also had to turn on the display quite frequently to take product images.
I have no doubt that the Realme TechLife Watch R100 will last six to seven days on a single charge if it is used normally. My Apple Watch Series 7 offers around two days of battery backup. So, in comparison, I was extremely pleased with the five-day battery backup of the Realme TechLife Watch R100.
The company claims a charging time of two hours, and the smartwatch took exactly the same amount of time to charge from 0% to 100% during our review. For charging, the smartwatch uses a pogo-pin connection.
Realme TechLife Watch R100 Review: Verdict
The Realme TechLife Watch R100 costs slightly more than a basic digital or analogue watch from a well-known brand. For that extra money, the Realme TechLife Watch R100 enables you to check the notifications, take calls, control music playback, set and snooze alarms, find your phone, check your heart rate and SpO2 levels, and track fitness activities with decent accuracy. It also shows you a lot more info on the watch screen than a traditional watch does. You can even change the dials on the go to suit different occasions, which can't do on a conventional watch.
The Realme TechLife Watch R100 does have a very affordable-looking display and a slow performance. It also doesn't offer accurate fitness tracking. However, it makes up for those drawbacks with its super attractive price tag of just ₹3,999. If you are in the market for an affordable watch, I think it is totally worth spending a little extra on the Realme TechLife Watch R100 smartwatch rather than getting a traditional watch. If you absolutely need a GPS-enabled smartwatch, you should look at something like the Redmi Watch 2 Lite that we reviewed a few months ago.
The Review
Realme TechLife Watch R100
You can get a smartwatch experience for around the same price as a traditional watch with the Realme TechLife Watch R100. In spite of its affordable price tag, it has an excellent build quality, bright display, calling functionality, and a long battery life. If you are looking for an entry-level smartwatch, the Realme TechLife Watch R100 should be on the top of your list.
PROS
Excellent build quality.
Display has adequate brightness for outdoor usage.
Long battery life.
Calling functionality.
Great value for money.
CONS
Slow performance.
Software has very few features and customisability options.
Lack of GPS results in low fitness-tracking accuracy.
Review Breakdown
Build Quality

0%

Display

0%

Performance

0%

Software

0%

Fitness Tracking

0%

Battery Life

0%

Connectivity

0%

Value

0%