Samsung has a smartphone in almost every price range. For those who like to try out design innovations, the company has uber-expensive Galaxy Z-series handsets. Its Galaxy S series competes with the likes of iPhones and Pixel devices. Then, there's M-series, which targets value buyers. The handset we are going to review today is the Galaxy M53. It falls under the mid-range category dominated by brands such as Realme, Xiaomi, and OnePlus. The successor of the Galaxy M52 comes with a revamped design, a new processor, and a beefy camera. Is that enough to take on the competition? Let's find out.
Design
Most phones in Samsung's M series feature quite a dull design. For instance, the M51, as well as the M52, look uninspiring. However, the latest M53 comes with a welcome change in the aesthetics department. The phone is made of plastic, but it is the frosted finish that gives it a character. As you can see in the images, the green one looks great. Other than that, the handset is available in blue and brown.
Like most recent smartphones, the M53 has a large camera that holds four lenses. The camera protrusion has smooth edges, which makes the design look streamlined. The handset's sides are slightly curved, which helps with the grip. At its thinnest point, the Galaxy M53 measures 7.4 mm. Owing to its plastic body, the mobile is quite light at 176 grams.
Subscribe to Onsitego
Get the latest technology news, reviews, and opinions on tech products right into your inbox
The device features a single speaker grille accompanied by a Type-C USB port. The volume rocker offers proper tactile feedback. The power button is integrated with a fingerprint scanner, which is incredibly fast. What's missing here is a 3.5mm headphone jack, which could be a deal-breaker for many.
Display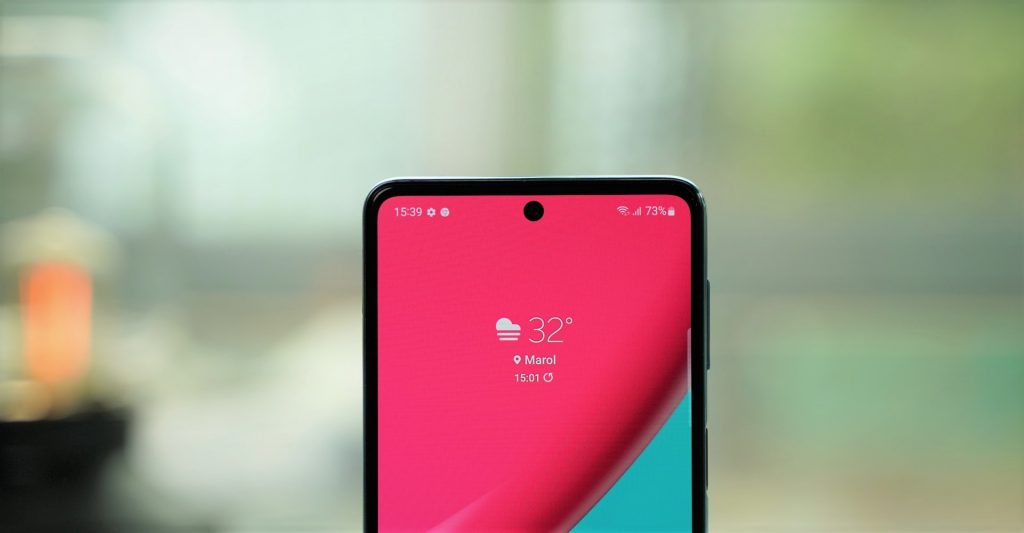 The phone features a 6.7-inch OLED screen with a punch-hole to accommodate a selfie camera. For a mid-range device, the bezels are quite slim. With 1080 x 2400 pixels, this Full HD+ display is quite sharp. Owing to its emissive nature, this panel offers true blacks. It is a vibrant screen that makes colours pop. Those who prefer toned-down colours can opt for the 'Natural' setting. Samsung also lets users white balance. On top of that, there's an elaborate RGB intensity setting for finer control.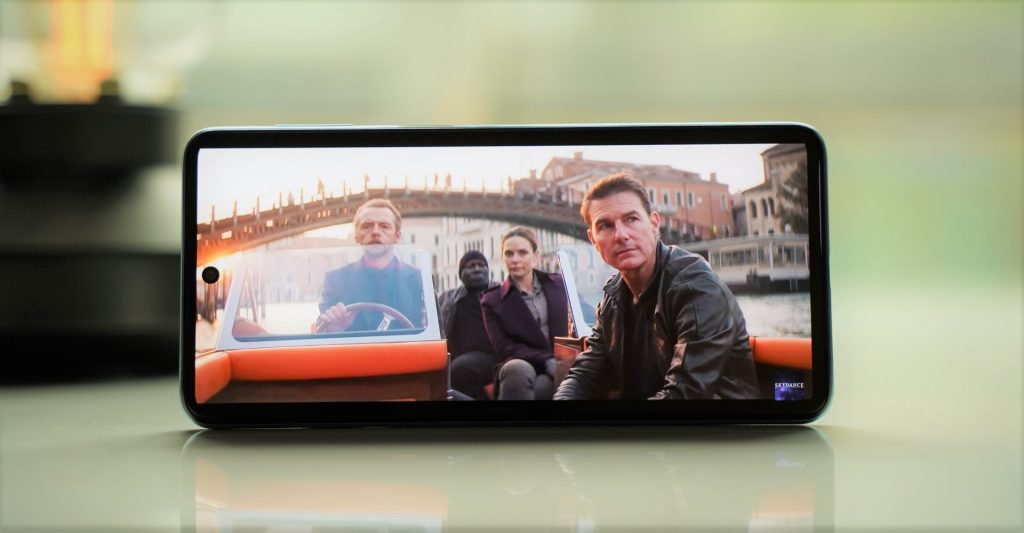 The screen is quite bright and retains legibility under sunlight. The viewing angles are impressive too. There's barely any colour or brightness degradation at extreme angles. What's more, Samsung has tuned the screen for a fluid 120Hz refresh rate. Overall, this is one of the best screens in this price range.
Software
The Galaxy M53 ships with the latest Android 12 with One UI 4.1 on top. I must admit Samsung's customisation has come a long way. Gone are the cluttered menus and gaudy colours. You now get streamlined homescreens with a fresh palette. The transparency and transition effects are tastefully done.
Samsung offers thorough customisation options. You can adjust anything from the icon size to colour scheme. Then, there are hundreds of free and premium themes available via Samsung's customisation app.
The phone is pre-installed with some useful apps such as Samsung max, which is a good VPN app. But then, there's junk like Samsung Global Goals, Samsung Free, Moj, MX TakaTak, and ShareChat. Samsung also needs to go easy with pushing ads on the lockscreen as well as the notification bar.
Performance
While the Galaxy M52 was powered by Qualcomm's chip, Samsung has gone with MediaTek's 6nm Dimensity 900 for the M53. The phone breezes through regular tasks. Switching between the apps is fairly quick and the apps resume from where you left them, which is good. However, apps take a wee bit more to load compared to similarly priced phones from Realme and Xiaomi.
Moving onto gaming, if you want to play Call of Duty: Mobile on Max frame rate, you're restricted to the Low graphics setting. The game runs smoothly with frame rates hovering at around 60. However, the phone fails to sustain its performance after a few matches. Although Samsung boasts about vapour chamber cooling, the thermal throttling kicks in very early as highlighted by the test results.
The phone's network reception is spotless. Other connectivity options such as its dual-band Wi-Fi and Bluetooth 5.2 work without any issues. The phone comes with 5G support, which makes it future-proof. According to Samsung, the Galaxy M53 is compatible with N1, N3, N5, N7, N8, N20, N28, N66, N38, N40, N41, and N78 bands.
Photography
The device is loaded with a quad-camera setup. It comprises a whopping 108MP primary camera along with an 8MP wide, 2MP macro, and 2 MP depth sensor. The interface is fairly straightforward but a bit sluggish at times. You can switch between Photo, Video, Portrait, and Fun modes with a swipe. The Fun mode bakes in several Snapchat filters right into the camera app.
Coming to the subject of image quality, the 108MP is a bit underwhelming. Sure, it produces good images in bright outdoors. There's nothing to complain about in terms of detail. However, the phone tends to go overboard with sharpening. Another area of concern is excessive exposure that spoils bright areas of the photograph. Switching to the 8MP wide camera leads to a huge drop in quality. It doesn't capture much detail, to begin with, and Samsung's aggressive sharpening algorithms make things worse.
In low light conditions, the 108MP camera delivers usable images provided you have steady hands. The 8MP wide-angle camera falters in night photography. So, it makes sense to stick with the primary camera in low light.
The phone records 4K videos at 30fps. If you prefer a smoother frame rate, the phone offers 60fps video at 1080p. The device comes with EIS (Electronic image stabilisation). However, it only works at a 1080p 30fps setting.
The 32MP selfie camera fares a bit better than the competition. It captures bright shots with a decent amount of detail. It comes with a dedicated portrait mode. However, its ability to separate the subject and background is not accurate.
Battery
Considering its slim design, the Galaxy M53 packs in a large 5,000mAh battery. On a single charge, the phone can easily last for over a day with seven hours of (SOT) screen on time, which is great.
It is rather disappointing that the phone only supports up to 25W charging speeds. What's worse is that Samsung doesn't bundle a charger in the box. Samsung's compatible charger costs around ₹1,150. A spare SuperDart charger took almost two hours to fully charge the Galaxy M53.
Verdict
The Galaxy M53 has many bright points. Compared to its predecessor, this phone has much better aesthetics. The OLED display is top-notch. You can't go wrong with the 5,000mAh battery either. However, Samsung has dropped the ball in the photography department. The phone doesn't live up to the 108MP camera hype. The handset also fails to deliver sustained peak performance.
To make things worse for Samsung, the Realme 9 Pro Plus and Mi 11i with similar specs are available at a starting price of ₹25,000. All in all, it is hard to recommend the Galaxy M53 over competing phones from Xiaomi and Realme.
The Review
Samsung Galaxy M53 5G
The Galaxy M53 has many bright points. Compared to its predecessor, this phone has much better aesthetics. The OLED display is top-notch. You can't go wrong with the 5,000mAh battery either. However, Samsung has dropped the ball in the photography department. The handset also fails to deliver sustained peak performance.
PROS
Excellent 120Hz OLED display
Sleek design
Runs latest Android 12
Long battery life
Supports 5G
CONS
Underwhelming 108MP camera
Mediocre gaming performance
Doesn't ship with a charger
Lacks a headphone jack
Charging speeds capped at 25W
Mono speaker
Review Breakdown
Design

0%

Display

0%

Front Camera

0%

Rear Cameras

0%

Software

0%

Performance

0%

Battery Life

0%

Value

0%