To compete with Xiaomi, its compatriot BBK electronics fields quite an extensive line-up. While Realme takes on the Redmi with a utilitarian approach, its sister brand Vivo stands out as a trendy option. The company's latest T1 5G smartphone seems quite exciting with its sleek looks. Moreover, it is banking on a high refresh-rate screen, marathon battery life, and 50MP cameras to attract customers. So, has Vivo managed to deliver a winner? Let us find out in our Vivo T1 5G review.
Design
The Vivo T1 5G makes a great first impression owing to its fancy paint job. Cheesy name aside, the Rainbow Fantasy colour variant will surely catch your eye. It features a gradient that goes from dominant light blue to amber. The phone glitters like Robert Pattison from Twilight, which is not a bad thing in this context.
The T1 5G has a plastic body, but its frosted finish provides a nice touch. The camera module sits on the top left. Compared to other smartphones, the T1 5G's camera doesn't protrude much.
Subscribe to Onsitego
Get the latest technology news, reviews, and opinions on tech products right into your inbox
Taking inspiration from the iPhone 13 line-up, Vivo has opted for a flat-side design. While it looks good in pictures, there's a lot to be desired in terms of ergonomics. The phone has a plastic frame, which is quite sturdy. If I have to nit-pick, the Lock and Volume buttons lack proper tactile feedback.
Display
While other budget handsets including the Redmi Note 11 and Note 11S offer an OLED screen, the Vivo T1 5G settles for an LCD screen. Hence, don't expect vibrant colours or deep blacks. Another thing that's going to bother many consumers is the water-drop notch. Seriously, most phones in this price category opt for a less distracting punch-hole display.
As per the product page, this Full HD+ screen is tuned to support up to a 120 Hz refresh rate. By default, it is set to 'Smart Switch' mode which automatically alters the screen refresh rate based on the usage scenario. However, I didn't notice the UI or app scrolling to be smooth. In a side-by-side comparison, it barely kept up with 60 Hz OLED phones.
Software
The Vivo T1 5G has done a great job of delivering the latest Android 12 in the budget segment. Another positive is that Vivo's FunTouch OS doesn't look tacky as it once used to be. It now has a uniform icon size and toned-down colours.
Vivo also offers elaborate customisation options. You get to choose the screen layouts, fine-tune icon size, and assign swipe gestures for navigation. You also get to alter the UI colour to match that of the wallpaper, which is neat.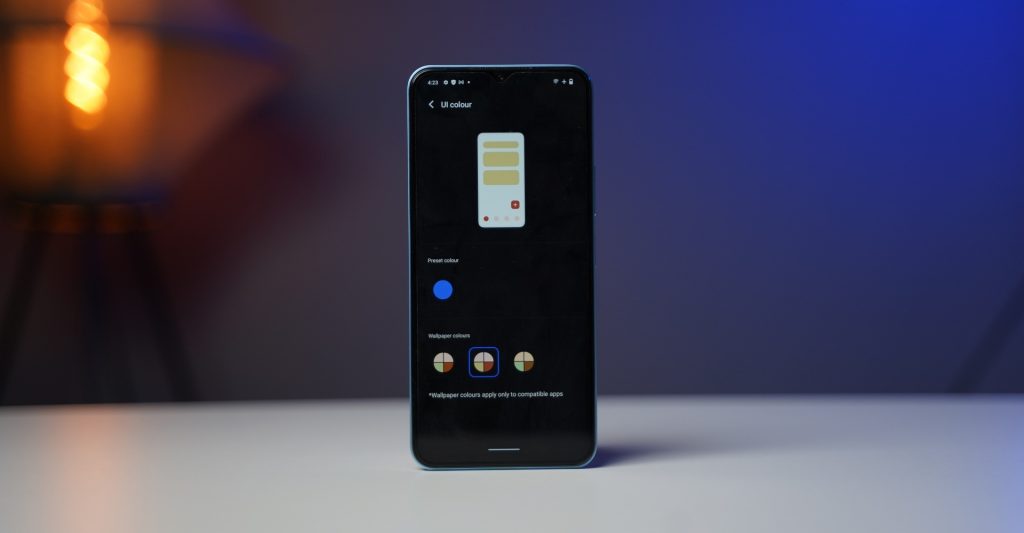 The situation is not all roses though, as the phone comes loaded with pre-loaded junk such as Moj, MX Takatak, ShareChat, and Josh. Vivo also squeezes in its advert-esque "suggestions" in the search menu.
Performance
The Vivo T1 5G is based on Qualcomm's 6nm Snapdragon 695 chipset. This chip is adequate to handle your regular tasks without any noticeable lag. However, if you observe carefully, you can notice a skipped frame or two.
Our 8GB review unit ran games such as Call of Duty: Mobile and BGMI quite well. The former can be played with 'Very High' graphics and 'Very High' frame rate. While the phone isn't a performance monster, it does offer sustained performance.
The phone comes with a 4GB RAM expansion option, which is just snake oil. For those interested in numbers, here are the popular synthetic benchmark scores.
The device's Wi-Fi and Bluetooth radios worked as they should. There was no anomaly to report in terms of the 4G VoLTE connection except for the usual Airtel call drops. The phone is compatible with 5G n77/n78 bands, but I couldn't test it due to obvious reasons.
Cameras
The T1 5G features a triple camera at the back. Out of the lot, there's one 50MP main camera along with a 2MP depth sensor and 2MP macro. The latter is quite useless due to its low resolution.
Moving onto the image quality, the 50MP snapper is competent when it comes to keeping noise under control. However, the snaps look a bit dull due to the muted colours. Even with the AI mode toggled on, the colours look a bit washed out. This issue is made worse by excessive exposure in the Auto mode. Since the phone lacks an ultrawide camera, you get the normal and 2x digital zoom mode.
The camera performs well in low-light conditions. The AI mode captures natural colours while keeping the noise under control. On the flip side, the lowlight snaps lack resolved detail. There's a good chance that Vivo's noise removal algorithm often leads to such soft photos.
The dedicated Night mode is effective and immediately bumps up the brightness of the shots. It does, however, require you to hold the phone steady for at least a couple of seconds.
The main camera can record 1080p videos at 60fps. Much like the recently reviewed Redmi Note 11, this handset lacks the 4K video recording option. There's nothing to write home about in terms of video recording, as the camera also lacks any kind of stabilisation.
Vivo gets the front cameras right and the Vivo T1 5G is no exception. The 16MP front-facing snapper delivers detailed images with good colours. It can also pull off some great portrait shots with accurate background separation.
Battery
The T1 5G packs in a large 5,000mAh battery with 18W charging support. If you aren't addicted to mobile apps, the phone should easily last you for over a day on a single charge.
While this phone wins you over with long battery life, the 18W charger is a letdown. Right when the competing brands are offering a 33W charger, the Vivo T1 5G is stuck on 18W. It takes around 1 hour and 40 minutes to fully charge the handset from zero.
Verdict
The Vivo T1 5G is undoubtedly one of the most stylish 5G handsets in the mid-range category. Despite its slim profile, it holds a 5,000mAh battery that easily lasts over a day. Its primary camera performance is good too.
That said, the handset has a fair share of shortcomings. For starters, it misses out on an OLED screen and the water-drop notch looks dated in this day and age. The camera setup lacks an ultrawide camera. The phone's charging speeds are also quite slow, too. All in all, the phone's drawbacks outweigh its strengths, which is why we can't wholeheartedly recommend this device.
The Review
Vivo T1 5G
The Vivo T1 5G is a stylish 5G phone with a slim profile. However, it still offers a 5,000mAh battery that easily lasts over a day. Its primary camera is good too. However, it misses out on an OLED screen and the water-drop notch looks dated. It also lacks an ultrawide camera and its battery charging speeds are quite slow. The phone's drawbacks outweigh its strengths, which is why we can't wholeheartedly recommend this device.
PROS
Ships with Android 12.
Fancy design.
Long battery life.
CONS
Lacklustre LCD.
Lacks ultrawide camera.
Dated water-drop notch.
Charging is slow.
Review Breakdown
Design

0%

Display

0%

Front Camera

0%

Rear Cameras

0%

Software

0%

Performance

0%

Battery Life

0%

Value

0%