Last month, we reviewed Realme's most affordable smartphone, the Realme C30, which starts at just ₹6,999. Although we thought that it was an excellent entry-level smartphone, we found two issues with it. First was the lack of a fingerprint reader, a crucial feature in smartphones. The second issue is its age-old MicroUSB port. Well, Realme has now come up with the Realme C30s and fixed one of those issues.
The Realme C30s is priced at ₹7,499. Its name and price suggest that it is an upgraded version of the Realme C30. Things certainly seem that way at first—it features a fingerprint reader—but then you realise that it still uses the MicroUSB port. When you dig deeper, you'll also find that the Realme C30s has a much slower processor than the Realme C30. The new phone is also a downgrade in the connectivity department as it has Bluetooth 4.2 rather than 5.0. The rest of the specifications between the Realme C30 and the Realme C30s remain the same.
So, the Realme C30s is not particularly a great upgrade over the Realme C30. It seems to be an alternative to the Realme C30 for people who want a fingerprint reader. But is it worth the trade-off in the performance department and a premium of ₹500? More importantly, how does the Realme C30s fare against the segment leaders, the Redmi 10A and the Redmi 9A Activ? Let's check it out in our Realme C30s review.
Realme C30s Specifications
Display:

Size:

6.5-inch;

Type:

LCD;

Resolution:

HD+ (1,600 x 720 pixels);

Refresh Rate:

60Hz;

Touch Sampling Rate:

120Hz;

Display Protection:

Not Specified By Brand
Front Camera:

Resolution:

5MP;

Video Recording:

720p@30fps
Rear Camera:

Resolution:

8MP;

Video Recording:

1080p@30fps
Processor: Unisoc SC9863A (

Process:

28nm HPC+;

CPU:

8x 1.6GHz Cortex-A55;

GPU:

PowerVR GE8322)
RAM & Storage:

Configurations:

2GB+32GB, 4GB+64GB;

Expandable Storage:

microSD up to 1TB
Software:

OS:

Android 12 Go Edition;

Customisation:

Realme UI Go Edition
Battery:

Capacity:

5,000mAh;

Charging Wattage:

10W
Connectivity:

Wireless:

Dual-SIM 4G, 2.4GHz Wi-Fi a/b/g/n, Bluetooth v4.2, GPS/GLONASS;

Wired:

Micro USB port, 3.5mm Audio Jack
Audio: Single Speaker
Sensors: Light, Proximity, Acceleration
Security: Side-Mounted Fingerprint Scanner
Build:

Dimensions:

164.2×75.7×8.5mm;

Weight:

186 grams
Colours: Stripe Blue, Stripe Black
Price:

2GB+32GB:

₹7,499,

4GB+64GB:

₹8,999
Realme C30s Review: In-Box Contents
Realme C30s 
Charging Adapter With USB Type-A Port And 10W Power Output
USB Type-A To USB Micro USB Cable
SIM Card Tray Ejection Tool
User Manual
Realme C30s Review: Design & Build Quality
Subscribe to Onsitego
Get the latest technology news, reviews, and opinions on tech products right into your inbox
The Realme C30 had a rather quirky "Suitcase Design," with ridges running through the entire height of its plastic back panel. The Realme C30s carries forward the same design philosophy, but the ridges are toned down now, making the phone look less eye-catching and more premium.
The phone has a flat design all around, including its sides, buttons, and even the camera module, giving it a minimalistic and modern look. All those design elements come together to make the Realme C30s a really stylish phone for its price.
The build quality of the phone is also quite good. Despite its plastic frame, it feels super solid when you hold it in your hands. The edges, ports, buttons, and all the other exterior components have a precise finish, which further boosts the feel-good factor. 
The Realme C30s, however, lacks any kind of IP (Ingress Protection) rating. A few other smartphones which are available for the same price, such as the Redmi 9A Active, feature a P2i coating for water splash resistance. This is something that Realme should focus on for its future affordable products.
Display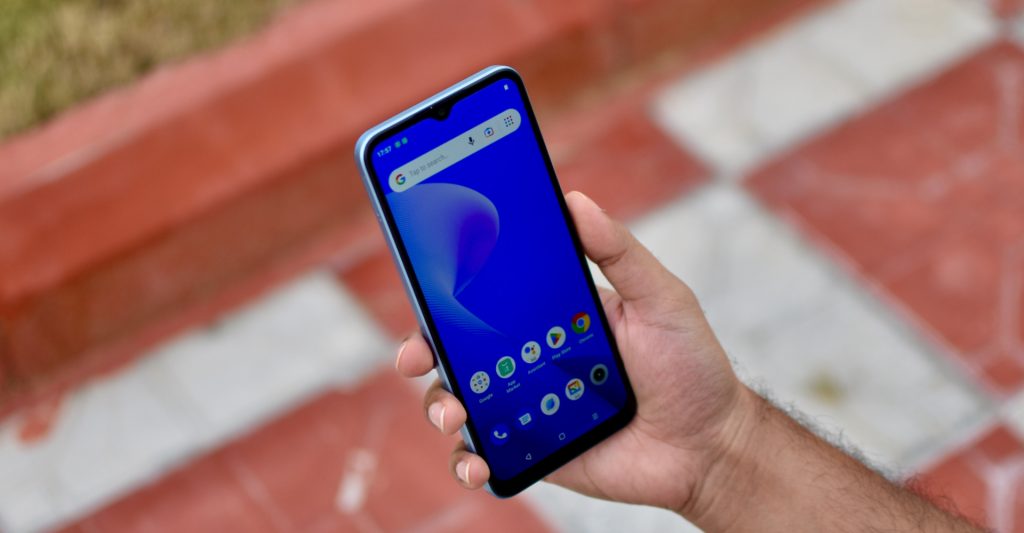 The display on the Realme C30s is similar to what you get with almost every other entry-level smartphone nowadays, a 6.5-inch LCD with HD+ resolution and a 60Hz refresh rate.
The first thing that caught my eye was the colours on this display, which look more vibrant than you'd expect from an entry-level phone. Even the black levels are pretty good for the price, and that very well explains why the screen has a good contrast ratio and vibrant colours. Given its pixel density of 270 PPI, you do see some pixelation, especially around smaller UI elements and small font size, and the content on the screen doesn't look very sharp. But that's what you get for the price. 
Since this is an entry-level LCD, the brightness is obviously on the lower side. However, it is bright enough to see content under direct sunlight without too much trouble. The brand hasn't specified which glass the display uses for its protection, and it is certainly not a popular one because if it was, Realme would've advertised it. But then, no other smartphone in the price segment offers Corning Gorilla Glass or anything of that sort. So, I think it's okay.
Camera
Rear Camera
The Realme C30s has the least impressive rear camera among all its rivals, an 8MP sensor with contrast detection autofocus and an LED flash. It doesn't get any more basic than this.
Daylight
In spite of very basic camera hardware, the Realme C30s manages to capture pictures with decent image quality, at least in daylight. The images look bright, vibrant, and quite detailed for the price. However, the image quality from phones such as the Redmi 10A and the Redmi 9 Active is a step ahead as they have a better rear camera sensor.
Lowlight
Low-light environments bring out the limitations of this camera. Although the pictures look bright, they have a really bad dynamic range and lots of noise. The level of detail is also low, which makes the image look soft and unimpressive. 
Turning on night mode helps the camera drastically. The phone manages to capture images with a much wider dynamic range, significantly less noise, a lot more details, and more vibrant colours. 
While other low-end smartphones also offer poor image quality in low light, the Realme C30s has it worse. I wish Realme had offered a better camera sensor (a 13MP at least). If you get this phone, make sure that you use the Night Mode in low-light environments. 
Portraits
Portrait images taken with this camera look horrible, no matter if it's daylight or low light. The phone does a very poor job of outlining the subject, and the background blur effect also looks very unnatural. Both of those issues make the image look like someone has pasted a sticker of a person on a background.
Video Recording
The Realme C30s can record videos at up to 1080p resolution and 30fps. Although that looks good on paper for a smartphone of this price tag, the quality of the videos is really bad. The amount of detail in 1080p videos is so low that it becomes hard to believe that they have a resolution of anything above 720p. The videos also come out very shaky and have poor colours and dynamic range.
While the video recording quality that you get with other smartphones in the segment isn't all that great, it is certainly better than what you get with the Realme C30s.
Front Camera
Daylight
Thankfully, the front camera of the Realme C30s performs much better than the one on the rear. Selfies taken with the phone look bright and have a healthy amount of details. The colours look slightly washed out, but that's something which other similarly-priced smartphones also suffer from. So, the Realme C30s gets a pass here. The images taken with the front camera of the Realme C30s in daylight are certainly social media worthy.
Lowlight
Selfies captured in low light have significantly fewer details and contain a lot of noise. But you have to keep in mind that other similarly-priced smartphones also suffer from those issues. Fortunately, the images at least look bright and have good colour reproduction.
Portrait
The front camera on the Realme C30s does not offer portrait mode. That really gives you a sense of how basic this smartphone is in terms of camera. Anyway, even if Realme offered a portrait mode with the front camera, I doubt that it would have been any good, especially when looking at portrait images from the rear camera.
Performance
Okay, let's talk about the elephant in the room, the phone's Unisoc SC9863A processor. Ever heard of it? Probably not. Well, that's because it has been used in only two other smartphones, the Samsung Galaxy A03 and the Realme C11 2021, according to Unisoc's website. Before I tell you how this chipset performs in the Realme C30s, I'll walk you through its specs to give you an idea of how outdated and weak it looks on paper.
For starters, it is built on the age-old 28nm fabrication process. Chipsets such as the MediaTek Helio G25, which is used in many similarly-priced phones, use a 12nm node. The SoC doesn't come with any high-performance CPU cores either. Instead, it uses eight Cortex-A55 CPU cores. That's fine for a low-end SoC. However, what really bothers me here is that all the CPU cores are clocked at only 1.6GHz. Rivalling chipsets offer around 2GHz clock frequency on at least four of the eight high-efficiency CPU cores. Then there's the PowerVR GE8322 GPU, which is very weak.
Those specs are a recipe for very slow performance, and that's indeed what you get with the Realme C30s. It feels absolutely sluggish. Opening applications takes more time than it should. The phone stutters while switching between apps. Web pages load very slowly. The icons and images in apps take a lot of time to load. Even the keyboard takes a couple of seconds to pop up after you click on a text box. Heck, when you press the volume button, the phone shows a loading icon before the volume sliders finally pop up on the screen. 
Other phones in the segment offer much better performance. Take Realme's own C30, for example. It feels super fast, and I had no issues using it as my daily driver even though I am used to much faster smartphones, such as my iPhone 13 Pro (Review), for everyday use. The Realme C30s, on the other hand, was a nightmare as a daily driver. Honestly, I haven't used a slower smartphone than the Realme C30s in years, irrespective of price. Realme could have done a better job here.
Software
Just like the Realme C30, the Realme C30s also ships with Android 12 Go Edition rather than the standard version of Android. However, the brand doesn't mention that on its website. Realme is simply misleading customers here. Letting people know that the phone comes with Android Go Edition is important because this OS lacks many features compared to stock Android or the full version of Realme UI. It also supports fewer apps. For example, you can't install the full version of the Amazon app from the Play Store. Instead, it gets the one that runs in a Chrome web browser, offering a horrible user experience.
The OS gets Realme UI Go Edition customisation. It's nothing like the Realme UI software that you get on phones with the standard version of Android. While Realme UI offers a bunch of features related to customisation, privacy, safety, security, and convenience, Realme UI Go Edition only brings a few custom UI elements here and there and, more importantly, a lot of bloatware. The phone came installed with nine third-party apps. On top of that, it kept nagging me to install a bunch of other unnecessary apps from Realme's App Store. The screenshots below will give you an idea.
While you can uninstall bloatware easily and turn off notifications of stock apps to avoid unwanted advertisements, what bothers me here is that the phone comes with Android Go Edition. As I said earlier, It has fewer features and more importantly, it doesn't support the standard version of many apps. All of those things leave you with a bad user experience. I wish Realme offered the standard version of Android with the Realme C30s, like many other phones in the segment. Apart from that, I didn't face any software issues with the smartphone.
Battery Life And Charging
Entry-level smartphones nowadays offer a great battery life. That's because these phones have large battery packs as well as a display and a processor that consumes very less power. The Realme C30s has all those ingredients. Yes, the processor is not as efficient as that of its rivals, but it certainly consumes less energy than mid-range or high-end SoCs, owing to its low clock speeds.
Despite all of that, the Realme C30s has a shorter battery life compared to other entry-level smartphones. It usually lasted for about 36-40 hours on a single charge with about 6-7 hours of screen-on time. Other phones in the same price range offer around 8-10 hours of screen-on time. Don't get me wrong. The battery life of the Realme C30s will certainly get you through more than a day and a half, but I expected it to last much longer, given what its rivals are offering.
The charging speed isn't fast either. The phone took 3 hours and 30 minutes to charge from 0% to 100%, similar to the Realme C33 that we reviewed. But then other phones in the segment are no better, and so the Realme C30s gets a pass here. That being said, the phone comes with a Micro USB port for charging, and that really disappointed me.
Connectivity & Call Quality
Using an ultra-low-end and outdated processor has not only caused the Realme C30s a great deal of loss in terms of performance but also its connectivity. While every other entry-level smartphone nowadays has Bluetooth 5.0, the Realme C30s gets the age-old Bluetooth 4.2 version, because that's what the Unisoc SC9863A supports. Bluetooth 4.2 will not only cause you audio latency issues with modern TWS earbuds but also lower audio quality compared to Bluetooth 5.0.
Another thing that disappoints me with the connectivity of the smartphone is that it has a MicroUSB port. But then almost every other entry-level smartphone, including the ones from Redmi, have the same thing. So, even though I hate it, I have to give the Realme C30s a pass here. I really hope that brands start offering USB Type-C ports on entry-level smartphones soon.
All the other connectivity options on the Realme C30s work fine. The phone offered me good cellular network reception and call quality during the entire review period. I used the phone's Bluetooth to play music on my Kia Sonet and had no issues with it (apart from high audio latency). I even used it for navigation in my car, and everything worked as it should. Wi-Fi reception had no issues either.
Security (Fingerprint Scanner)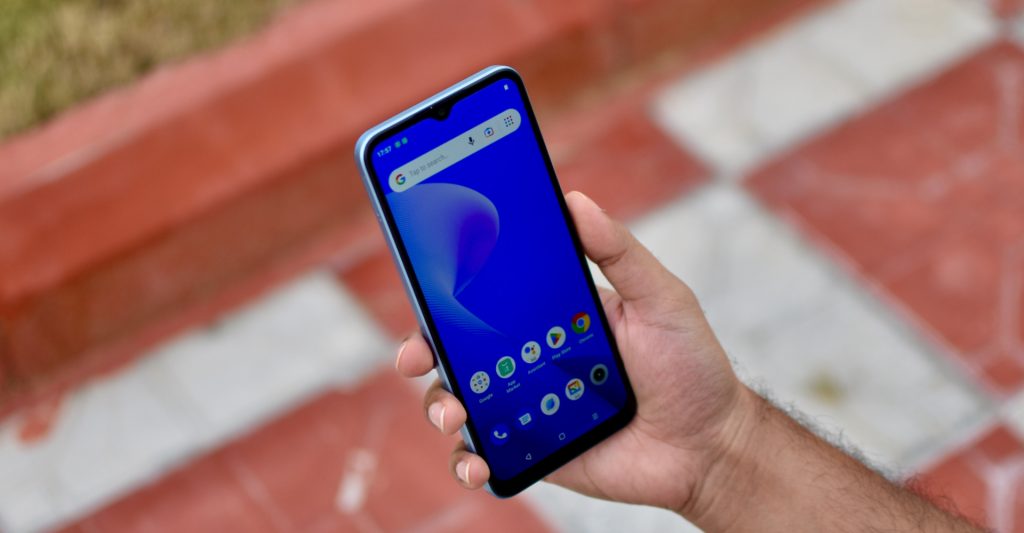 The Realme C30s gets a fingerprint scanner embedded in its power button. What could go wrong with it, right? After all, it's a very basic and simple feature. Well, Realme has somehow messed up that as well. After you press the power button to lock the phone, it is not supposed to unlock itself for a certain period of time, even if your finger touches the fingerprint scanner. And that's to avoid accidental touches. But the Realme C30s unlocks itself immediately after you lock it if your finger happens to touch the fingerprint scanner while keeping it in the pocket, causing the phone to misoperate in your pocket.
It's very hard to avoid your finger from touching the fingerprint scanner because your thumb falls exactly on the power button when you hold the device. So, every time I locked the Realme C30s and tried to keep it on my work desk or in my pocket or simply hold it in my hand, the phone unlocked itself and misoperated due to accidental touches.
On one occasion, accidental touches caused the Realme C30s to call one of my friends. In another instance, the phone opened the Instagram app and sent a photo from my gallery to someone. Fortunately, I caught it in time and unsent the image. Who knows what else could have happened? This issue is not only extremely annoying but also a serious matter of safety and privacy.
I would prefer non-biometric ways (pin code, pattern, or password) over a fingerprint scanner which has such issues any day. The whole point of getting the Realme C30s over the Realme C30 is that it has a fingerprint scanner. But since the fingerprint scanner here has a serious issue, I don't see why anyone should pick this smartphone over the other one, at least in the current state of things.
I hope Realme fixes the issue with a software update. Until then, I recommend using other ways of unlocking the phone to avoid accidental touches and misoperation.
Realme C30s Review: Verdict
To recap, the Realme C30s has slow performance, making it hard for you to perform even the basic tasks. On top of that, it comes with Android Go Edition, which doesn't give you the freedom to use the standard version of an app. The rear camera of the smartphone also has a below-par performance compared to its rivals. The battery life, although good enough for most people, is not as long as its competitors. It also gets an inferior set of connectivity options compared to other smartphones in the segment. Then there's the issue with the fingerprint scanner. All in all, the Realme C30s has left with a bad user experience.
If you want a smartphone below ₹7,499, go for the Realme C30 instead. It is a way better smartphone than the Realme C30s. If you can extend your budget to ₹8,999, look for the Redmi 10A or the Redmi 9A Active.
The Review
Realme C30s
The Realme C30s is flawed in almost every aspect. It has slower performance than its rivals, offers below-par quality from the rear camera, gets a shorter battery backup than its competitors, comes with outdated connectivity options, and ships with Android Go Edition instead of the standard version of Android. Plus, it has a major issue with its fingerprint scanner.
PROS
Stylish design and good build quality.
Bright and vibrant screen.
CONS
Below-par rear camera quality.
Super-slow performance.
Comes with Android Go Edition OS.
Battery life not as long as competitors.
Outdated connectivity features.
Glitchy fingerprint reader.
Review Breakdown
Design & Build Quality

0%

Display

0%

Front Camera

0%

Rear Camera

0%

Performance

0%

Software

0%

Connectivity

0%

Battery

0%

Value

0%