We are now bringing you our Realme Pad X review. It is the company's third and most expensive tablet yet. Its pricing starts at ₹19,999 and goes up to ₹27,999.
Interestingly, none of the Realme Pad X variants have direct competitors. The Motorola Tab G70 and the Lenovo Yoga Smart Tab have cellular connectivity but the base variant of the Realme Pad X, which is closer to their pricing, doesn't. The base variant of the Xiaomi Mi Pad 5 is priced close to the top-end variant of the Realme Pad X but lacks cellular connectivity. So, it will not be an apples-to-apples comparison. And that works in favour of the Realme Pad X.
The Realme Pad X is the most affordable tablet with 5G connectivity in India. It is also the only tablet below the ₹70,000 mark to offer 5G connectivity. That's quite an achievement for a tablet that costs just ₹25,999.
Subscribe to Onsitego
Get the latest technology news, reviews, and opinions on tech products right into your inbox
The other specs of the device also look very impressive. It has a 10.95-inch WUXGA+ LCD, Snapdragon 695 processor, up to 6GB RAM, 128GB storage, 8,340mAh battery, 33W Dart Charge, quad-speaker setup, a 13MP rear camera, and an 8MP front camera. The front-facing camera has a feature called Limelight, which is similar to Apple's Center Stage, and it pans and zooms to keep the subject's face in the frame during video calls.
The Realme Pad X looks excellent for its price. But the question remains: how does all that translate into real-life usage? Is the Realme Pad X the best tablet in its price range, and should you buy it? Well, let us dig deep and find out in our in-depth Realme Pad X review.
Realme Pad X Specifications
Display: Size: 10.95-inch; Type: LCD; Resolution: 2,000 x 1,200 (WUXGA+); Brightness: 450 nits (claimed); Screen-to-body-ratio: 84.6% (claimed)
Processor: Snapdragon 695 (Fabrication process: 6nm; CPU: 2x 2.2GHz Cortex-A78 + 6x 1.8GHz Cortex-A55; GPU: Adreno 619)
RAM & Storage Configurations: 4GB RAM + 64GB storage, 6GB RAM + 128GB storage; Expandable storage: Support for microSD card up to 512GB
Software: OS: Android 12; Customisation: Realme UI 3.0 for Pad
Front Camera: Resolution: 8MP; Aperture: F2.2; FoV: 105-degree; Video recording capability: Up to 1080p at 30FPS
Rear Camera: Resolution: 13MP; Aperture: F2.2; Focal length: 33.7mm; Video recording capability: Up to 1080p at 60FPS
Connectivity: Cellular: Dual-SIM 5G with VoLTE and VoWiFi (only in cellular version); Wi-Fi: Dual-band Wi-Fi 5; Bluetooth: v5.1; Navigation: GPS, Beidou, GLONASS, Galileo (only in cellular version)
Battery: Capacity: 8,340mAh; Charging wattage and protocol: 33W Dart Charge; Other features: Reverse charging
Audio: Speakers: 4x speakers in a stereo configuration (with Hi-Res Audio certification and Dolby Atmos); Microphones: 2x microphones (with noise cancellation)
Sensors: Light sensor, acceleration sensor, gyroscope sensor, hall sensor, magnetic induction sensor
Security And Privacy: Face unlock
Build: Dimensions: 256.5mm x 161.1mm x 7.1mm; Weight: Wi-Fi version: 499 grams, 5G version: 506 grams
Colours: Glacier Blue, Glowing Grey
Price: Wi-Fi only versions: 4GB + 64GB: ₹19,999; 5G versions: 4GB + 64GB: ₹25,999, 6GB + 128GB: ₹27,999
Where To Buy: Realme
Launch Date: 26/07/2022
Realme Pad X In-Box Content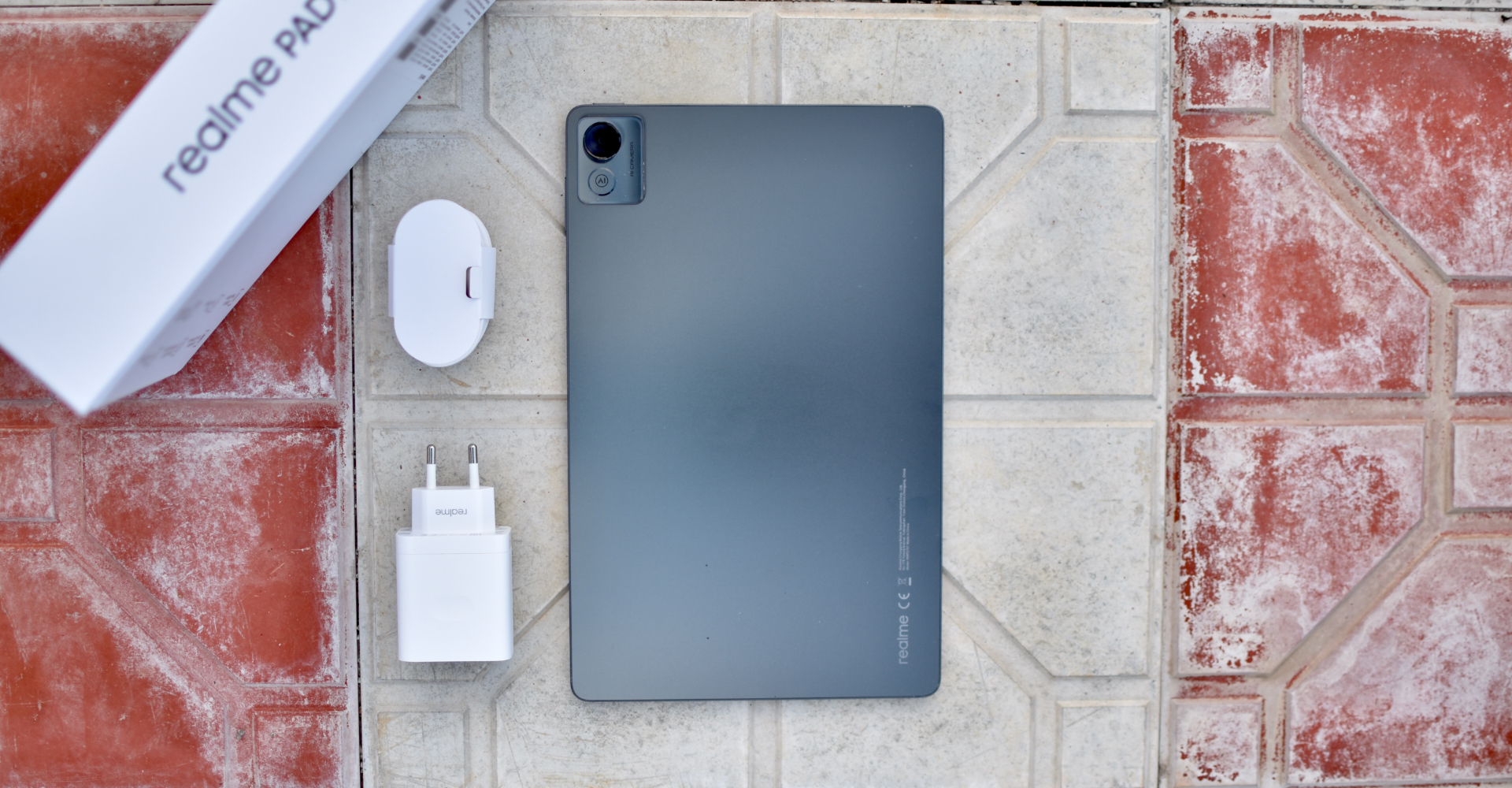 Realme Pad X
Charger (up to 33W output over Realme Dart Charge charging protocol)
USB Type-A to USB Type-C cable
Design And Build Quality
The Realme Pad X follows the same design strategy as its two previous tablets: Realme Pad and Realme Pad Mini (Review). It has a symmetrical and minimalistic design, a very thin waistline (7.1mm), narrow bezels around the display, and flat sides. All these aspects make the device look modern and premium. It is undoubtedly one of the best-looking tablets on the market.
Realme hasn't mentioned if the device has a metal or a plastic frame. It feels very strong and has no body flex whatsoever. To add to that, its surface finish made me think that it has a metal body and a metal back panel. However, I found that it has no visible antennas (which are made from plastic and stick out in a device with a metal frame). That made it clear that the tablet uses a plastic frame. Similarly, upon close inspection, I found that the back panel is also made using plastic.
Using a plastic frame and a plastic back panel for a tablet is not bad by any means as long as it is strong enough to withstand daily wear and tear for a few years and feels premium for the price. All the cutouts on the Realme Pad X are precise, the buttons feel firm, and the overall workmanship is excellent. It doesn't leave any room complaints even with its plastic body.
Even though the device has flat sides and sharp-looking edges, it feels comfortable to hold. The edges do not dig into your palm and make you feel uncomfortable even when you hold the device for a long time. Overall, the Realme Pad X looks gorgeous and has an excellent build quality.
Display
The Realme Pad X sports a 10.95-inch LCD with 2,000 x 1,200 pixels resolution. Most other tablets in this price range offer a display that has a size between 10 inches to 10.5 inches. So, in comparison, the Realme Pad X has a slight edge over most of its competitors.
The display is large enough to watch videos comfortably even when the tablet is in the lap. You don't have to bring the tablet closer to your eyes to see the content clearly like you have to do with other 7-inch or 8-inch tablets. The web browsing experience on the Realme Pad X is also similar to what you are used to on a laptop or a desktop. Since the screen is big, you can see everything on the webpage clearly without having to zoom in.
Playing games, however, is not ideal on this tablet. The device is so large that your fingers don't reach all the in-game controls.
The display has a pixel density of around 213 PPI. It is adequate to see the text throughout the UI and on the web pages without any noticeable pixelation. However, videos don't look very sharp, and you might wish that the display had a little more sharpness. That being said, I think the screen sharpness is good enough for the price.
The brightness is enough for indoor usage most of the time. However, it becomes a little tricky to see the content on the screen if there's an overhead source of light. And then using it outdoors makes it even harder to see what's on the screen. The display should either be brighter or less reflective.
The display also has poor black levels – they look washed out and pale. As a result, the display has a low contrast ratio, and the content doesn't look all that vibrant. That being said, it doesn't look too bad either.
The display has a 60Hz refresh rate. If you have been using devices with a 60Hz refresh rate screen, you won't find any issues with the Realme Pad X. But if you are used to devices with a higher refresh rate display, you will immediately feel that the screen of the Realme Pad X is not as fluid. You can get used to it over time, though. No other tablets in this price range have a 120Hz refresh rate display, so it is hard to complain. But if the Realme Pad X came with a 120Hz refresh rate display, it would have been a very smooth experience, especially while navigating through the UI and scrolling web pages.
Performance
The Realme Pad X uses the Qualcomm Snapdragon 695 processor, and the brand is offering the tablet in two configurations in India: 4GB RAM + 64GB storage and 6GB RAM + 128GB storage.
The Snapdragon 695 isn't a very popular SoC, but it is quite powerful. It offers a fast and smooth performance on the Realme Pad X. Tasks like navigating through the UI, opening apps, switching between the apps, and scrolling through web pages feel fast.
The tablet never stutters or hangs even when you open multiple apps back to back and switch between them quickly. It never makes you feel like it lacks raw horsepower. The presence of 6GB of RAM also contributes to that quick performance.
Even gaming on this device is extremely smooth. The tablet supports Max Frame Rate in Call Of Duty: Mobile with up to High Graphics settings. That's quite something for a lower mid-range tablet. All in all, the Realme Pad X is a great performer for most day-to-day tasks and even some gaming.
Software
We recently reviewed the Realme Pad Mini. It came with Realme UI for Pad user interface customisation. However, the software did not have any custom UI elements. Instead, it was just stock Android UI. The Realme Pad X, however, is totally different. Its Realme UI 3.0 for Pad interface is a slightly tweaked version of Realme UI 3.0 that we've seen on Realme smartphones.
That means it has all the additional features over stock Android that Realme UI 3.0 is known for. That includes plenty of options for UI customisation, privacy features (like the ability to hide and lock apps), dual-apps, and dual-channel acceleration, that make using the device a lot more convenient. But that's just the tip of the iceberg. The Realme UI 3.0 for Pad has some additional features to take the advantage of the large screen and make the tablet more productive for you.
For starters, there's a split screen option. It allows you to use two apps side by side, just like you'd on a desktop or a laptop. You can also use an app in a floating window so that you can navigate through the UI while still being able to access the desired app.
Then there is a sidebar which stays tucked on the side of the screen. You can use it to launch any app quickly from anywhere. The Realme UI 3.0 for Pad interface has a bunch of such features which make good use of the large screen and increase the productivity you can have on the device.
Even with all those features, Realme UI 3.0 for Pad is still not as good as One UI 4.0 on Samsung tablets. Samsung's interface for tablets has way more features that take more advantage of the large screen and its design feels significantly more polished. That being said, Samsung's tablets also cost a lot more for hardware compared to Realme tablets. 
Even though Realme UI 3.0 for Pad is not the best in the industry, Realme is at least going the right way. If the brand builds up on Realme UI 3.0 for Pad by adding more features and making it look more polished, I think it will be a great UI for tablets in no time. At the moment, it has all the necessary features you need to use the tablet comfortably.
Battery Life & Charging Speed
The Realme Pad X is powered by an 8,340mAh battery. Most other tablets with similar screen sizes and price tags come with a battery capacity of around 7,000mAh. In comparison, the one in Realme Pad is significantly larger.
On a single charge, I got around 48 hours of battery backup with almost 10 hours of screen-on time. That includes watching videos, browsing the web, going through social media feeds, and playing games. That's spectacular battery life, in my opinion.
When I do not use the Realme Pad X much, it goes on for a week with around 5-6 hours of screen-on time. If you are someone who uses the tablet for reading news for an hour a day, you will have to charge the Realme Pad X only once a week.
The tablet features 33W charging speed, which, I think, is quite good given what the competitors are offering. That 33W charging speed works over the Dart Charge charging protocol. It took the tablet exactly 120 minutes to charge from 0% to 100%. That's quite fast for a tablet with an 8,340mAh battery. However, I do wish brands start offering faster-charging speeds on tablets just like they are doing with smartphones.
Cameras
Rear Camera
The Realme Pad X comes with a 13MP camera at the rear. This is an entry-level camera sensor, and it's similar to what you get with most other Android tablets in the mid-range price category.
The images taken with the rear camera have below average level of detail. Larger objects look fine, but the smaller things like text on a number plate or leaves look smudged. Details are not as good as what you can get from a modern-age mid-range smartphone. And that's the part of the deal when buying a tablet. A majority of consumers don't use tablets to click images or capture videos, so a passable camera is all that tablets need.
The colours look slightly dull than what they are in reality, but the images don't look washed. They have a good amount of brightness, but once again, they are not as bright as the images taken from a similarly-priced smartphone. The dynamic range is surprisingly good, though. Take the image below, for example. You can see the outline of the clouds in the bright sky as well as the details in the shadows clearly.
Overall, the image quality from the rear camera is good enough for you to capture usable photos when you don't have a smartphone around.
Front Camera
The front camera is where things get interesting. Like many other mid-range tablets out there, the Realme Pad X also comes with an 8MP front-facing camera. However, it has a wider viewing angle (105-degree) than that of most other tablets. More importantly, it has a feature called Limelight, which uses that wide FoV and AI to keep you in the middle of the frame during video calls. This feature is similar to Apple's Center Stage that you get with the new iPads.
Realme's Limelight feature currently works with Google Duo, Google Meet, and Zoom. We tested it and are extremely pleased with its performance. The feature works just like it is advertised. It tracks your face and keeps you in the centre of the frame during a video call so that you are fully visible to the other person even if you move around the tablet.
What's impressive is the amount of frame adjustment it offers. Suppose you are on a video call where you are sitting on a chair, and the tablet is kept on your table, and for some reason, you get up from the chair, the Realme Pad X can move the frame all the way up till your face is visible when you are standing straight. We were also very pleased to see that this feature works even when there is a fairly low amount of light in the room.
Since a tablet has a larger screen than a smartphone, it is usually more suitable for family video calls as it allows the family members around you to comfortably see the video feed from the person on the other end of the call. The excellent front-facing camera (especially the wide viewing angle and Limelight feature) on the Realme Pad X will serve very well for video calls where there are other people around you attending the call.
What about the general image quality from the front-facing camera, though? Well, it performs brilliantly. The images come out bright, and they have a pretty good dynamic range. The colours are close to how they are in the real life. The amount of details is also not bad for the price of the device. Selfies don't look as good as what you would get from a similarly-priced smartphone, but it is totally acceptable for a tablet.
Audio Quality
The Realme Pad X has four speakers, two at the bottom and two on top, in a stereo configuration. The audio reproduction of these speakers is fantastic. For starters, the volume is loud enough to fill a 10×10 feet room with sound. The high and mid frequencies sound very clear. The bass is slightly on the lower side but totally acceptable for the price of the device. Except for the low frequencies, the audio quality is very close to what you get from the base iPad.
The Realme Pad X has one of the best-sounding speakers on Android tablets, irrespective of the price range. It is a joy to watch videos and movies on this tablet.
Connectivity And Call Quality
The Realme Pad X is the most affordable 5G tablet in India. If you are in the market for a tablet with cellular connectivity, getting one with 5G makes total sense since Airtel and Jio are expected to launch their 5G network as soon as this month. So, the Realme Pad X has that going for it.
Unlike iPads, you can take calls on the cellular version of the Realme Pad X. However, the tablet lacks an earpiece. So, if you take calls on it, the audio will come through the four loudspeakers, and everyone around you will be able to hear it. Even if Realme offered an earpiece, it would look too weird to hold this huge tablet to your ears for taking calls. The calling option should just be considered as an add-on. It is not meant to be used as a smartphone. While we are at it, it is worth mentioning that call quality is very good—people on either end of the call were able to hear each other properly.
The tablet also supports VoLTE and VoWiFi. Its cellular network reception was good, and I got the same data speeds with the Realme Pad X as I got with my Apple iPhone 13 Pro. There is also Wi-Fi 5 and Bluetooth 5.1 onboard, both of which work as they are supposed to.
Is Realme Pad X Worth Buying?
If you are in the market for a tablet under ₹20,000, the base variant of the Realme Pad X is the best option. No other tablet in that price category is as feature-packed as this one. Even if you are looking for a tablet with cellular connectivity and a budget of around ₹25,000, the Realme Pad X is the best option right now. Its 4GB+64GB cellular version offers the highest features for the price.
The only thing that could've been better in the Realme Pad X is its display. Higher brightness, slightly better blacks, and a 120Hz refresh rate would've made the tablet perfect. That being said, the display is still good given the asking price. Apart from that, the Realme Pad X hasn't given us any room for complaints. It has a peppy performance, feature-rich software with tablet-specific enhancements, great-sounding speakers, a long battery life, modern design, and sturdy build quality.
If you don't need cellular connectivity, and if you can stretch your budget up to ₹27,000, I would suggest you go with the Xiaomi Mi Pad 5. It offers a 120Hz display and a significantly faster processor. It is a better device overall for someone who doesn't require cellular connectivity.
The Review
Realme Pad X
The Realme Pad X offers a large screen with good sharpness, fast performance, feature-rich software, long battery life, up to date connectivity options, great-sounding speakers, sturdy build quality, and very convenient front-camera features. All of these make the Realme Pad X the best tablet for the price it is being offered at.
PROS
Large screen.
Fast performance.
Feature-rich software.
Long battery life.
Excellent loudspeakers.
Modern connectivity features, including 5G.
Sturdy build quality.
CONS
Display is dim, reflective, and has below-par black levels.
Realme UI 3.0 for Pad is not as good as Samsung One UI for tablets.
Review Breakdown
Design And Build Quality

0%

Display

0%

Performance

0%

Software

0%

Battery Life

0%

Front Camera

0%

Rear Camera

0%

Connectivity

0%

Audio

0%

Value For Money

0%