During the WWDC 2022 event, Apple announced macOS Ventura, the latest iteration of its desktop operating system. macOS Ventura (macOS 13) comes with a host of new features, including a lot of collaboration and ecosystem features. macOS Ventura will be released to compatible devices in Q3 or Q4 of 2022.
In this article, we will take a look at all the macOS Ventura features, the official release date, and the list of devices that are eligible to receive the macOS Ventura update. So, without waiting any further, let's get started.
Apple macOS Ventura Features List
1. Stage Manager
Working with multiple apps and files at once sometimes turns out to be quite cumbersome and tedious on macOS, as it leads to dozens of open windows. While macOS Monterey already had a very user-friendly design when it comes to handling the open apps and windows using Mission Control, Apple is offering one more way to manage active windows.
Subscribe to Onsitego
Get the latest technology news, reviews, and opinions on tech products right into your inbox
With macOS Ventura, Apple has introduced a feature called Stage Manager, which can be activated from the Control Center. Stage Manager essentially places the currently active window in the centre of the display and showcases thumbnails of other apps and their windows in a vertical row on the left. Clicking on a thumbnail opens that window and the current window transitions to the thumbnail row. Even if an app has multiple windows open, you can still cycle through them via thumbnails.
Furthermore, Stage Manager lets you group windows and apps together for specific tasks/projects. Plus, you can rearrange the window's position, as well as its size, within your focused workspace.
2. iMessage Gets Undo Send, Edit Message Features
Have you ever sent a message which you did not want to? Have you ever had the urge to edit what you just sent? Well, macOS Ventura has got you covered. With macOS Ventura, you can now edit or delete the messages that you have sent through iMessage. There is, however, a time limit for it. You can edit or delete the messages that you've sent within the first 15 minutes after tapping the send button.
Additionally, with macOS Ventura, those who have their read receipts turned on can also mark a message as unread, a feature a lot of macOS users had been requesting. Furthermore, with macOS Ventura, you will be able to recover deleted texts for up to 30 days. Needless to say, all these new messaging features will be available on devices running iOS 16 and iPadOS 16.
3. Shared Tab Groups
macOS Ventura brings a new productivity feature to the Safari web broweser: Shared Tab Groups. It lets you and your family members (or your workmates or friends) plan things out together. Using the feature, you will be able to build a collective list of bookmarks and use it as a shared landing page.
The other participants will even get to see which websites you are currently browsing. The Shared Tab Groups feature could turn out to be quite handy for those who need to do a lot of group planning, research, and brainstorming sessions. Plus, Apple is adding the ability to start a FaceTime call or group iMessage chats directly through Safari.
4. Mail App Gets Better Search, Send Later, Unsend Features
With macOS Ventura, Apple has introduced a host of usability enhancements to the Mail app. These new features are going to help the app compete with Gmail and other popular email clients. Users will be able to unsend emails shortly after sending them. Plus, scheduling emails is now possible with macOS Ventura.
Additionally, you will receive nudges to follow up on emails sent a few days ago that have not received a revert. Plus, the Apple email app will now remind you of a possible attachment that you forgot to add. Searching the inbox will also be way easier with macOS Ventura, as the search box within the Mail app will now show you a list of your recent contacts, documents, photos, and emails.
Apple has also added smart search corrections and smart search suggestions to the Mail app with macOS Ventura. You will be able to add rich links to your emails to give them more context and details at a glance.
5. Continuity Camera: Using iPhone As Webcam For Macs
One of the prime highlights of the macOS Ventura update is the Continuity Camera. If you are not happy with the quality of the FaceTime camera included with your MacBook, you can now use your iPhone as a webcam for your machine. To use the Continuity Camera feature, your iPhone will need to be running iOS 16 and your MacBook will need to be running macOS Ventura.
All you need to do in order to use the Continuity Camera feature is to mount an iPhone to your Mac, and macOS Ventura will automatically detect the device and connect to it wirelessly. After a successful connection, you will be able to use the iPhone camera in FaceTime and other third-party apps like Zoom. As a matter of fact, your iPhone will even lend its microphone to the MacBook, so you can expect a better audio quality as well.
Furthermore, Apple has introduced portrait mode, Desk View mode, Studio Light mode, and Center Stage with the Continuity Camera feature. The Desk View mode is particularly impressive, as it lets you present yourself, as well as your desk, in real-time, using a combination of image processing and lens correction.
Also Read: Continuity Camera Lets You Use Your iPhone As A Webcam
6. Passkeys For Password-Less Life
Looks like Apple does not want traditional passwords to stay in the game for too long. It has collaborated with the FIDO Alliance to create a secure passwordless sign-in process called Passkeys. Passkeys will roll out later this year with macOS Ventura to compatible devices.
The way Passkeys work is a bit different from the way the traditional passwords do. Passkeys are stored only on your device and not on a web server, so they are not vulnerable to online phishing attacks.
Instead of using a password or a pin when you land on a login page, you will now be prompted on your Mac's screen to pick up your iPhone or iPad and use Touch ID/Face ID to verify your identity. The two devices will synchronize your credentials, and you will be able to log in to websites and apps.
Your personal Passkeys will be synchronized across all your iCloud-enabled devices, and you will be able to seamlessly login to various apps by using Passkeys instead of having to go through the hassle of remembering too many passwords.
7. FaceTime Handoff
macOS Ventura has one more Continuity feature dubbed FaceTime Handoff. With FaceTime Handoff, you won't have to hang up and restart a FaceTime call whenever you want to switch to another device. The FaceTime Handoff feature will let you transfer the call to the other machine of your choice without the need for disconnection. A simple click will let you switch the calls from your iPhone to your MacBook or to your iPad. Pretty neat right?
8. Spotlight Improvements
The built-in search feature in macOS, dubbed Spotlight, has received a major design overhaul with macOS Ventura. The Quick Look feature of Spotlight now comes with a large preview of images, and it can also find media in your Photos library after the latest update. Spotlight will also support Live Text, which allows users to search text in an image.
Furthermore, you can now use Spotlight to perform tasks like starting a timer, running a shortcut, or creating a document. The search module will now bring up rich information on things like movies, TV shows, sports, video games, new releases, and more.
9. iCloud Shared Photo Library To Compete With Google Photos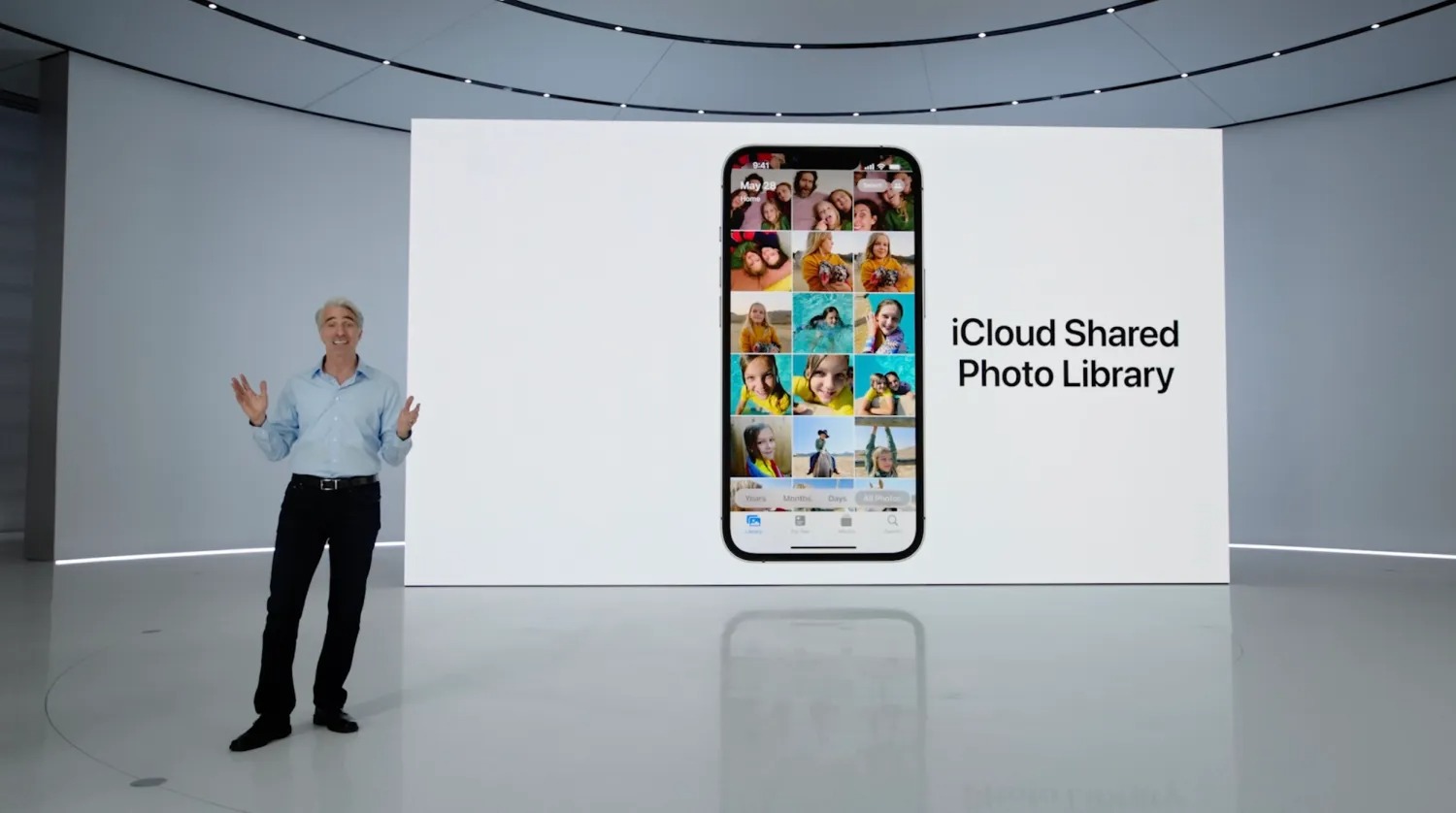 With macOS Ventura, Apple has introduced iCloud Shared Photo Library, which lets you create a photo library and share it with up to six family members to create a shared collection of photos and videos.
If you have go out on a vacation with your family, there are chances that multiple family members capture images and videos. The iCloud Shared Photo Library could be a real life-saver during such circumstances as all the memories will be added to the shared library which can be accessed by everyone.
The members in the iCloud Shared Photo Library can pick and choose photos and videos they want to be added to the shared library. They can share all photos and videos that they take, and edit and delete them. Additionally, the Photos app will suggest you add the relevant media files to a specific shared library.
10. Immersive Gaming Experiences
During WWDC 2022, Apple introduced its next-gen processor, the Apple M2. Leveraging the potential of the new processor, Apple has announced several noteworthy improvements in the gaming realm. The new Apple Silicon enables the newly launched MacBooks to run AAA games without breaking a sweat.
Games including upcoming titles, such as GRID Legends, Resident Evil Village, and No Man's Sky, are going to be made available to the latest MacBooks. Apple has made use of Metal 3, its latest version of the software that powers gaming across its platforms, this time around with its latest Macs.
MetalFX Upscaling, which is Apple's competitor to AMD's Fidelity FX and Nvidia's DLSS, will enable developers to quickly render complex scenes by using less compute-intensive frames, and then apply resolution scaling and temporal anti-aliasing. As a result, the gaming performance will be accelerated and graphics will look more real, more responsive, and snappier.
Also Read: iOS 16 Fitness App No Longer Requires An Apple Watch For Activity Tracking
11. Revamped Game Centre
Apple has introduced a new Game Centre with macOS Ventura. The new Game Center lets you see your friends' play activities and achievements. Plus, macOS Ventura comes with support for SharePlay, which lets you play games with your friends while on a FaceTime call or during iMessage chatting.
12. New Game Controller Menu
In the system settings of macOS Ventura, you will find a new game controller menu for managing the game controllers that are connected to the Mac. The game controller menu allows the MacBook users to map the controller's buttons and thumbsticks to the Mac's keyboard. Users can even adjust the haptic feedback levels and create multiple profiles using hte new game controller menu.
Also Read: iOS 16 Brings Copy And Paste Feature To Photos App
13. Live Text For Videos, Visual Look Up
Live Text, which uses on-device intelligence to recognize text in images, can now do the same with videos as well. The feature now has support for paused video frames. Furthermore, Visual Look Up is now expanded, and it can now recognize animals, birds, statues, more landmarks, and even insects. Plus, users can now lift the subject away from an image and drop it into another app to use them as stickers.
14. Background Sounds
With macOS Ventura, Apple has introduced pre-installed background sounds to the Mac. This feature allows calming sounds (ocean, rain, and more) to mask unwanted environmental noise, which will potentially help minimize distractions. The feature was first rolled out on the iPhone and iPad with iOS 15 and iPadOS 15, respectively, and is now made available to Mac users as well.
15. Hidden Images, Recently Deleted Albums Are Now Locked By Default
With macOS Ventura, users will be able to lock and unlock the Hidden and Recently Deleted albums using their login credentials or Touch ID.
16. Live Captions
macOS Ventura comes with support for live captions, albeit in beta for now. The transcriptions are generated automatically in real-time for the specially-abled. This feature will be quite useful for those who are deaf or hard of hearing, and they will be able to follow along more easily with conversations and media alike.
17. Text Checker For VoiceOver
A new Text Checker for VoiceOver has been introduced with macOS Ventura. The feature discovers common formatting issues, such as duplicate spaces and mistakenly capitalized letters in emails and documents before the user shares them with others.
18. Clock, Weather Apps Come To Macs
The ever-famous Weather and Clock apps, which were so far available only on iOS and iPadOS devices, have finally made their way to macOS with the latest macOS Ventura update. The apps have further been optimized for large-screen Macs.
19. Focus Filters
The Focus mode received a lot of traction last year when it was announced, and Apple has refined it to a more granular level with macOS Ventura. Now, users will be able to set boundaries within Apple apps like Calendar, Mail, and Safari for each focus that they enable.
For instance, users can choose a set of Tab Groups to show up in Safari in the Work Focus mode, while the other tabs will not show up during the time the person is in, well, work mode.
20. Enhanced Smart Folders In Notes
The Notes app has also received a major overhaul with macOS Ventura. The new update introduces Enhanced Smart Folders, which automatically organize notes in a Smart Folder based on filters, such as Date Created, Date Modified, Shared, Mentions, Attachments, and more. Notes can now be locked with the help of a password. Plus, users will now be able to share notes with others via a link.
Apple macOS Ventura Release Date
The new macOS Ventura update is currently available for download as part of Apple's Developer Preview program. As for the public beta, the build will be made available in July 2022. However, if you want to enjoy the stable build of the macOS Ventura, the new update will be available this fall (Q3 or Q4 of 2022).
Apple macOS Ventura Update: List Of Eligible Devices
Here is the list of Apple Macs that are to receive the macOS Ventura update:
iMac (2017 or later)
iMac Pro
MacBook Air (2018 or later)
MacBook Pro (2017 or later)
Mac Pro (2019 or later)
Mac Studio
Mac mini (2018 or later)
MacBook (2017 and later)
How To Download macOS Ventura Update
As mentioned earlier, macOS Ventura is available as part of the Developer Preview program. If you want to download it, you will have to enrol in the Apple Developer Program. Note that your current Apple ID might not suffice for the same, and you will have to create a new account if you want to check out the Developer Build.
Additionally, the developer build is prone to contain various unknown bugs and unless you are absolutely sure as to what you are doing, we recommend waiting for the stable release. In any case, if you are willing to give it a try right away, we recommend taking a backup of your important data before doing so.
---
This is everything that you need to know about the latest macOS Ventura update. What are your thoughts on this new version of macOS? Let us know in the comments section below.